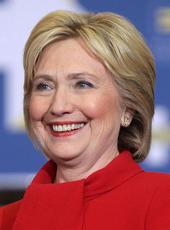 Press Release - Nevadans Asked to Voice Support for Paycheck Fairness on Equal Pay Day -- April 24
Clinton-Sponsored Legislation to Prevent, Regulate and Reduce Pay Discrimination
More than 40 years after President Kennedy signed the Equal Pay Act of 1963, Nevada women -- and working women across the country -- continue to earn less than male colleagues doing the same work. Nationwide, women employed full-time, year-round in the U.S. earn only 77 percent of what men earn. Though Nevada women fare slightly better -- in 2005 averaging 81 cents for every $1.00 earned by a male counterpart -- there is still a marked disparity.
The average American woman will need to work through April 24th, 2007 to earn the same amount a man doing the same job earned during 2006. Because of the disparity, April 24 has been dubbed "Equal Pay Day."
Senator Hillary Clinton aims to help close the wage gap once and for all through passage of the Paycheck Fairness Act. The Act will take critical steps to empower women to negotiate for equal pay, to create strong incentives for employers to obey the laws that are in place, and to strengthen federal outreach and enforcement efforts.
Nevadans for Hillary is asking residents to speak out against pay discrimination by urging members of the Nevada congressional delegation to support the Paycheck Fairness Act. A sample letter may be downloaded at www.hillaryclinton.com or obtained by emailing nvvolunteers@hillaryclinton.com.
"Throughout her career, Hillary Clinton has been a leading voice against discrimination, and an outspoken advocate for those who are underrepresented in society," said Frankie Sue Del Papa, Northern Nevada Chair, Nevadans for Hillary. "The Paycheck Fairness Act is just one example of her efforts on behalf of women and working families."
"It is simply outrageous that -- even today -- for every $100 a Nevada woman earns, she has $19 less to spend on groceries, housing, child care and other expenses than her male counterpart," she continued. "Nevadans should stand with Senator Clinton and let Congress know they support the fundamental right of equal pay for equal work."
According to the National Committee on Pay Equity, working women stand to lose $250,000 over the course of a career because of unequal pay practices -- a difference in pay that cannot be explained by experience, education, or other qualifications. At the current rate of change, working women in Nevada will not achieve equal pay until 2020. Nationwide, women will not achieve equal pay until after 2050.
The wage gap hurts women in all aspects of their life. More than 21 percent of Nevada women are without health insurance, and nearly 12 percent of women live below the poverty line.
The Paycheck Fairness Act was originally introduced during the 109th congress, with 18 co-sponsors -- including Senate Majority Leader Harry Reid of Nevada. Senator Clinton re-introduced the Act this March, during Women's History Month.
Hillary Clinton, Press Release - Nevadans Asked to Voice Support for Paycheck Fairness on Equal Pay Day -- April 24 Online by Gerhard Peters and John T. Woolley, The American Presidency Project https://www.presidency.ucsb.edu/node/293072