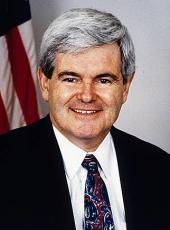 Press Release - Neighbors for Newt: Randy Lavigne from Salem, NH
Mattheau LeDuc, NH Communications Director for Newt 2012, shares this story of meeting Vietnam Veteran Randy Lavigne at a recent campaign stop in Concord, NH.
Name: Randy Lavigne, Vietnam Veteran


Age: 65

Occupation: Medical Sales, (Retired)

Town: Salem, NH
Randy Lavigne arrived thirty minutes early to the Legislative Building in Concord, NH. He sat patiently in the lobby waiting for Newt Gingrich to arrive.
"I want to hear what he has to say. And I have a question of my own that I need answered first," he told me, when I struck up a conversation asking if he was a supporter.
Like many in New Hampshire, he isn't one to give away his vote freely. Also, having served in Vietnam from '66 to '67, he takes the NH Motto of Live Free or Die to heart. "That means I have the right to live as I see fit without unnecessary intrusion from our government".
Originally from Methuen, MA, Randy moved to NH in 1990 "because of the better school systems."
Because I was running advance for Newt's Team at this particular event, I happened to be outside the lobby when Newt and his wife, Callista, arrived. A few minutes later, glancing through the picture windows into the crowded lobby, I spotted Newt and Callista, standing beside Randy. They spoke for a good few minutes before shaking hands. Newt made his way to the podium to address the gathered crowd, and Randy sat and listened intently.
The following day I got to thinking about Randy. I was curious to know if he was able to ask his question, but also, I wondered if he got the answer he was looking for. I decided to call him and find out.
After reaching him on the phone and reintroducing myself, Randy told me, "I absolutely got to ask my question. I wanted to know if Newt was committed enough to run for the people." Before I could ask if Randy got the response he was looking for, he added, "I am 100% convinced and without question, going to vote for Newt."
Newt Gingrich, Press Release - Neighbors for Newt: Randy Lavigne from Salem, NH Online by Gerhard Peters and John T. Woolley, The American Presidency Project https://www.presidency.ucsb.edu/node/297772