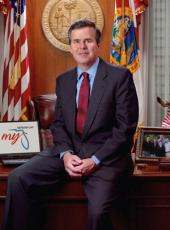 Press Release - My Passion for Education Reform
After I lost my first election in 1994, I went through a period of what some might call 'self-reflection' but I referred to it as 'listening and learning.' I was humbled, and determined to learn, so I went into the community — not as a candidate, but as a fellow citizen.
I wanted to learn more about my state and why so many Floridians felt like they didn't have an opportunity to succeed. I had spent some time before on the issue of education, but in 1995, I really threw myself into the subject. I visited a lot of schools and saw firsthand that students weren't graduating, and even if they did, they weren't ready for college or work. The school system seemed to be designed to meet the needs of the adults and special interests running the schools, not the kids in the classrooms. And that was wrong.


Before I took office, Florida was at the bottom nationally in K-12 education outcomes. Almost half the state's fourth graders were functionally illiterate and the high school graduation rate hovered around 50 percent. The situation was particularly alarming for African-American children with only 37 percent of black third graders reading at or above grade level in 2001. Florida's students were struggling.
I met with parents, teachers, administrators and anyone else with an opinion. I worked with the President of the Urban League in Miami, T. Willard Fair, and in 1996, we started our own charter school for the Liberty City neighborhood. At the time there were no charters in Florida. So we said, let's change the law, let's go build a charter school, let's start something new and hopeful for people who shouldn't have to wait for a real opportunity.
Our charter school endeavor was an all-volunteer effort. The weekend before Liberty City Charter opened, we realized the school didn't have a flagpole. So I went to the hardware store, and a few of us learned how to mix the concrete and anchor the pole. That Monday morning, 90 kids raised the American flag together. That moment symbolized so much of what we were trying to do — give every kid a chance to be part of American opportunity. It was an experience that still ignites my passion for transforming education today.
…give every kid a chance to be part of American opportunity. It was an experience that still ignites my passion for transforming education today.
In my next campaign, I visited 250 schools across Florida, many of them in low-income communities. After I won the governorship in 1998, we made education reform a chief priority. We built a plan based on strong accountability, high standards, quality testing, quality teachers and unprecedented parental choice. We tripled the number of charter schools. We created the nation's first statewide voucher program and then created three more broad choice programs, in addition to expanding virtual learning.
We implemented a mandatory A-F grading scale for schools, ended social promotion and forced schools to offer remedial teaching for low-performing students. We created opportunity scholarships to let kids trapped in failing schools go to public and private schools of their choice.
It was our uncompromising belief that every child can learn. Low-income, minority and disabled kids had been ignored by their schools in many cases. So I set a simple standard: Teach every kid and offer every child an opportunity to get the education they deserve.
These reforms weren't always popular. We were fought every step of the way by status quo education bureaucrats. We spent huge amounts of time filling out paperwork for federal bureaucrats. And the teachers unions hated what we were doing. In my re-election campaign in 2002, they didn't just bankroll my opponent; they mortgaged their building to do it. But they lost, and the kids won.
It was one of the most successful education reform stories this nation has ever seen. Florida's high school graduation rate rose by 50%. The number of schools rated A or B increased from 21% to 74%. Florida led the nation in improvements for low-income and black 4th grade literacy. The percentage of African-American third graders reading on grade level nearly doubled.
Low-income and Hispanic fourth graders are the best in the nation in reading. The number of African-American and Hispanic students passing the AP exam more than quadrupled. And Florida became the only state to consistently close the achievement gap between white and non-white students, and between low-income students and the rest of the student body.
Jeb Teaching
After I left public office in 2007, I immediately set out to make these reforms possible in other states that wanted to try them. I launched a foundation devoted to the cause of education reform. From 2008 forward, our foundation went from working with three states to 48. A lot of what we did in Florida ended up happening in other states. It was an amazing revolution in education — and is a lesson for what's possible if you work every day with a single goal: To give every child an opportunity to succeed in life.
My experience in Florida taught me we can fix a few, big complicated things with the right leadership. I did it in Florida, and, together, we can do the same in Washington.
Jeb Bush, Press Release - My Passion for Education Reform Online by Gerhard Peters and John T. Woolley, The American Presidency Project https://www.presidency.ucsb.edu/node/325760