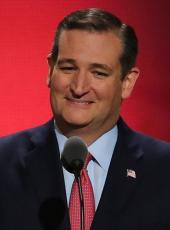 Press Release - More than 200 Faith Leaders Endorse Ted Cruz For President
Cruz Announces Large Influx of Clergy Endorsements
HOUSTON, Texas — Presidential candidate Ted Cruz today announced additions to his Faith Leadership Team which include more than 200 faith leaders from around the nation. This follows the campaign's announcement yesterday of it's National Prayer Team, led by Cruz Crew volunteers, dedicated to a focused season of prayer on behalf of the nation, Cruz, and his family and staff. Cruz continues to show commitment to conservative values by rallying people of all faiths to unite around support of religious liberty. Cruz has held two Rallies for Religious Liberty that were widely attended, the first in Iowa on August 21 and most recently in South Carolina on November 14.
"I am excited to be surrounded by so many people of faith," Cruz said. "Believers are alarmed that their values are not being represented, nor their liberties respected, in Washington. This list reflects a wide range of denominations, ministries, geography, and church size. At every level of our campaign and in all of the early states, we are allied with leaders of faith communities, from mega churches to small-town congregations and parishes. People of faith who have never participated in the election process are engaging early, and they are taking leadership roles!"
"We know that if even a fraction of the evangelicals who routinely don't vote were to turnout and vote, Washington could be changed almost overnight," Cruz continued. "Bringing new faith voters to the polls is an essential part of our strategy, and we are succeeding."
Multiple independent legal firms focusing on religious liberties advise that clergy may discuss the positions of candidates, endorse or oppose candidates for public office, and make personal financial contributions to candidates without violating any of the requirements of the Internal Revenue Code.
"More than 75,000 Americans of faith have signed up to support Cruz for President since the campaign launched," said Reverend Rafael Cruz, Ted's father. "We are witnessing a groundswell of enthusiasm and support for a Ted Cruz presidency. This is a testament both to the high interest in Ted among people of faith and to his consistent defense of religious liberty for all Americans at every step of his career. People admire Ted's courage – this is the kind of president we have been looking for. Increasingly, the faith community is coalescing behind Ted Cruz."
Titles and affiliations of all endorsers are provided for identification purposes only. This is one in a series of releases announcing leaders of faith who support Ted Cruz for President.
Pastor Andrew Goodwin, Gurdon First Assembly of God, Arkansas

Deacon Cecil Rhodes, Arkansas Full Gospel Fellowship, Arkansas

Bishop Robert E. Smith, Sr., Founder, Total Outreach for Christ Ministries, Inc., Arkansas

Dr. Paul Chappell, Lancaster Baptist Church, California

John Radell, Christian Citizens United, Delaware

David Jeffers, David Jeffers Group LLC, President and Founder, Author, Florida

Reverend Brian Boyles, Georgia

Pastor Tom Allen, Simple Church, Iowa

Pastor Wayne Almlie, St. Paul's Lutheran Church, Iowa

Pastor Gregory Baum, Bethel Baptist Church, Iowa

Pastor Randy Bingham, Marion Ave. Baptist Church, Iowa

Pastor Jon Booth, Gateway Baptist Church, Iowa

Pastor Steven Britton, Calvary Baptist Church, Iowa

Pastor Joseph Brown, Marion Ave. Baptist Church, Iowa

Pastor David Bush, First Federated Church, Iowa

Pastor Maurie Campbell, Iowa

Pastor Eric Cleveland, Spirit and Truth Apostolic Fellowship, Iowa

Pastor David Clinkscales, Woodland Hills Church of Christ, Iowa

Pastor Emeritus Brad Cranston, Heritage Baptist Church, Iowa

Pastor Jeffrey Dahlin, Praise Community Church, Iowa

Pastor Michael Davis, Lighthouse Baptist Church, Iowa

Pastor Travis Decker, Ottumwa Baptist Temple, Iowa

Pastor Bob Deever, Grace West Church, Iowa

Pastor Doug Deford, Bethany Baptist Church, Iowa

Pastor Mike DeMastus, Fort Des Moines Church of Christ, Iowa

Pastor John DeSaulniers, Jr, Good Cheer Family Fellowship, Iowa

Pastor Kevin Dice, Round Prairie Baptist Church, Iowa

Reverend Robert Dodge, United Methodist Church, Iowa

Pastor Lloyd Eaken, Fairview Baptist Church, Iowa

Pastor Rob & Jamie Ely, Grace Fellowship, Iowa

Reverend Steve Epley, Epley Family Evangelism, Iowa

Pastor Jeff Ferguson, Iowa

Reverend Timothy Fitzner, Immanuel Lutheran Church, Iowa

Evangelist Caleb Garraway, Iowa

Pastor William Graham, Grace Baptist Church, Iowa

Dick Green, John G. Lake Ministries, Iowa

Pastor Michael Griswold, Youth Ministries, Marion Avenue Baptist Church, Iowa

Pastor Ed Hannahs, Fellowship Marshalltown, Iowa

Pastor Jeff Hill, New Hope Assembly of God, Iowa

Reverend Scott Hill, Heartland Baptist, Iowa

Pastor Jim Hudzinski, Iowa

Pastor Judy Hundley, First Church of God, Iowa

Pastor Steve Jewett, Iowa

Pastor Stan Johnson, Britt Free Church, Iowa

Pastor Spencer Keroff, First Church of the Open Bible, Iowa

Pastor Rose Kessler, Lightning and Thunder Ministry, Iowa

Elder David Klang, Hanford Church — Mason City, Iowa

Pastor Dylan Knudsen, Harvest Bible Chapel, Iowa

Pastor Joel Kobernat, Cross Point Baptist Church, Iowa

Pastor Kenneth Koske, Twin Pines Baptist Church, Iowa

Pastor Mario Lara, Life Reach Church of Christ, Iowa

Reverend David Loeschen, Our Saviour Lutheran Church, Iowa

Pastor Dr. Tim Lubinus, Executive Director, Baptist Convention of Iowa, Iowa

Pastor David MacDonald, Senior Pastor, Faith Community Church, Iowa

Pastor Louis Mahe, fmr. Immanuel Lutheran Church, Iowa

Pastor Gregory Malone, Iowa

Pastor Edward Mast, Old Paths Baptist Church, Iowa

Pastor Michael McAfee, Victory Christian Center, Iowa

Pastor Dan McCoy, First Baptist Church of Urbandale, Iowa

Reverend Marnie Miller, First Church of God, Iowa

Pastor Allan Miller, Heritage Baptist Church, Iowa

Pastor Jeff Mullen, Iowa

Preacher Tim Newman, member of Altoona Regular Baptist Church, Iowa

Pastor A.J. Potter, Pleasantville Baptist Church, Iowa

Pastor Jonathan Ribble, New Life Christian Fellowship, Iowa

Pastor Tim Ried, Bethel Baptist Church, Iowa

Pastor Benjamin Scholl, First Congregational Church, Iowa

Pastor Duane Smith, First Baptist Church, Iowa

Pastor Rex Stancil, Fairview Church, Iowa

Reverend Charles and Dianne Stevens, Riverside Baptist Church, Iowa

Pastor Kevin Subra, Northridge Baptist Church, Iowa

Pastor Brian Tatman, Eastern Hills Baptist Church, Iowa

Pastor Don Thurman, Church of the Nazarene, Iowa

Pastor Chris Tjapkes, First Baptist, Iowa

Pastor Andy Tuttle, Independent Bible Church, Iowa

Pastor James Tyree, First Church of Christ, Iowa

Pastor Bradley Wallace, Faith Pentecostal Church, Iowa

Pastor Roland Waterman, Faith and Family Fellowship, radio show host, Iowa

Pastor Leslie White, Crossfire Church, Iowa

Pastor Darran Whiting, Liberty Baptist Church, Iowa

Reverend Shane Wilson, Iglesia Espiritu y Verdad, Iowa

Pastor Samuel Cottle, New Creation Family Worship, Michigan

Tom Cusick, Michigan

Pastor Steve Garrett, Mason Road Bible Church, Michigan

Reverend Ronda Hawkins, Michigan

Pastor Jeffery Hawkins, Prince Of Peace Baptist, Michigan

Reverend Jeff Johnston, Wrate-Hope Anglican Chapel, Michigan

Pastor Austin Kreutz, The Path of Allegan, Michigan

Pastor Thom Moffitt, Captain, Salvation Army, Michigan

Pastor Ernest Ruemenapp, Family Heritage Baptist Church, Michigan

Pastor Ron Sischo, First Baptist Church, St.Johns, Michigan

Reverend Chris Thoma, Our Savior Evangelical Lutheran Church, Michigan

Pastor Chuck Vizthum, Whole Life Christian Fellowship , Michigan

Associate Pastor Roger Welsh, Mt. Hope Church, Michigan

Associate Pastor Grant Sowell, King's Gate Worship Center, Mississippi

Dr. Karladine Graves, Co-Founder, Christian Citizens United, Missouri

Dr. Chuck Hoskins, Jefferson Baptist Association Executive Director, Director of Missions, Missouri

Pastor Chris Lybarger, Senior Pastor, Fellowship First Baptist Church , Missouri

Representative and Pastor John McCaherty, First Baptist Church of Murphy, Missouri

Calvin Morrow, Founder, Christians Uniting for Political Action , Missouri

Pastor Oscar Benavides, Centro Cristiano Amigos De Israel , Nevada

Chaplain / Elder David Bensley, Nevada Men of Faith Ministry, Nevada

Wes McMillian, Wes McMillian Ministries, Nevada

Darrell Porter, Darrell C. Porter Evangelistic Association, Inc., Nevada

Richard Ziser, President, Nevada Concerned Citizens, Nevada

Pastor Josiah Armstrong, Youth Pastor, Crossing Life Church, New Hampshire

Pastor Stephen Bates, Pastor, Bible Baptist Church, New Hampshire

Preacher Mark Bodanza, Tri-State Bible Church, New Hampshire

Pastor Andy Buchanan, Hill Village Bible Church, New Hampshire

Pastor David Carlson, Gospel Baptist Church, New Hampshire

Pastor and Representative Allen Cook, Grace Ministries International, New Hampshire

Pastor Andrew Dean, Village Chapel Baptist Church, New Hampshire

Pastor Joseph Dichiaro, Calvary Fellowship, New Hampshire

Reverend Paul Gaylord, Hillsboro Baptist Church, New Hampshire

Pastor Ron Moore, Intersection Church Merrimack, New Hampshire

Pastor Thomas Peetz, Word of Life Christian Fellowship, New Hampshire

Pastor Ray Pouliot, Riverside Christian Church, New Hampshire

Ray Ross, pastoral council, St. John Neumann Catholic Community, New Hampshire

Pastor Mark Warren, Lead Pastor, Grace Capital Church, New Hampshire

Chancellor Dean Whiteway, Concord Christian Academy, New Hampshire

Dr. Ronnie Baity, Berean Baptist Church, Return America, North Carolina

Reverend Flip Benham, Operation Save America ministry, North Carolina

Dr. Michael Brown, Founder and President of FIRE School of Ministry, Director of the Coalition of Conscience, North Carolina

Dr. Kevin Broyhill, Calvary Baptist Church, North Carolina

Bishop Kelly R Dodson, East Shelby Church of God, North Carolina

Reverend Allen Doug, Penley's Chapel, North Carolina

Reverend Chad Ellege, Leicester Baptist Church, North Carolina

Pastor Rick Finley, Fellowship Baptist Chruch, North Carolina

Dr. William Forstchen, Professor, Montreat College, North Carolina

Pastor Edward Gray, First Wesleyan Church, North Carolina

Dr. and Pastor Eric Grindstaff, Chapel Hill Baptist Church, North Carolina

Dean Hunter, Central Baptist Church, Minister of Youth and Education, North Carolina

Reverend Murray Kartanson, Executive Pastor, Agape Faith Church, North Carolina

Xavier Kelley, Shining Light Baptist Church, North Carolina

Eugene Lane, Offering Ministry, North Carolina

Jeff Lominac, Director, North Carolina Christian Coalition , North Carolina

Pastor Jon McConkey, Maranatha Baptist Church, North Carolina

Reverend Darin Moser, Sweet Life Fellowship, North Carolina

Steve Noble, Host, Called2Action Radio, North Carolina

Dr. J.N. "Hub" Powell, Professor, Montreat College, North Carolina

Dr. Timothy D. Rabon, Beacon Baptist Church , North Carolina

Reverend J. Wendell Runsion, North Carolina

Pastor Shannon Scott, North Carolina

Dwane Thomas, New Manna Baptist Church, North Carolina

Dr. Rit Varraile, Elizabeth Baptist Church, North Carolina

Joseph Wenzel, General Officer, Burkemont Baptist Church, North Carolina

Pastor Roger Woodard, Family Worship Center, North Carolina

Pastor Rodney Lord, Pastor, Freedom Gate Church, Ohio

Pastor Shawn Meyer, Senior Pastor, Aletheia Christian Church, Ohio

Reverend J. Michael Webber, Ohio

W. Wayne Ingalls, Elder, Beit Tefillah Messianic Fellowship, Oklahoma

Dr. Tony Beam, Interim Pastor, VP of Student Affairs at North Greenville University, talk radio show host, South Carolina

Ryan Candill, Admistrator, Florence Baptist Temple, South Carolina

Reverend Mike Gonzales, Vice Chair, South Carolina Pastors Alliance; Senior Pastor, Columbia World Outreach Church, South Carolina

Joe and Gladys Grimaud, Board Members, Tony Evans Ministries, South Carolina

Dr. Al Harley, Psychiatrist Biblical Counseling, Florence Baptist Temple, South Carolina

Jeff Johnson, Minister of Education, Florence Baptist Temple, South Carolina

Reverend Jeff Kelley, Grace Baptist Church, South Carolina

William "Brad" Lindsey, Minister of Music, Gethsemane Baptist Church, South Carolina

Pastor Frankie Melton, Heath Springs Baptist Church, South Carolina

Pastor Bill Monroe, Senior Pastor, Florence Baptist Temple, past President, Baptist Bible Fellowship, South Carolina

Reverend Jake Patterson, Hurricane Baptist Church, South Carolina

Reverend Alvin D., Jr. Rogers, 1st Pentecostal Holiness Church, South Carolina

Reverend Terry Sartain, Calvary Chapel, South Carolina

Dr. Robert Vallair, Chaplain, South Carolina

Reverend Darly Welch, , South Carolina

Pastor Freddie Young, Senior Pastor, Grand Strand Second Baptist Church, South Carolina

Pastor Lyndon Allen, Woodmont Bible Church, host of Total Life Victory Radio Show, Tennessee

Pastor David Baker, Family Baptist Church , Tennessee

Pastor Allen Barrett, Tennessee

Pastor Rob Bremer, Tennessee

Pastor Kevin Burden, Senior Pastor, Cornerstone Baptist Church, Tennessee

Pastor Roger Burks, Tennessee

Laurie Cardoza-Moore, President and Founder, Proclaiming Justice to the Nations, Tennessee

Pastor Ben Graham, Pastor of Music City Baptist Church, VP of TN Pastors Network, Tennessee

Elder Paul Grant, Ruling Elder, Faith Presbyterian Church (PCA), Tennessee

Pastor Phil Hauser, Assistant Pastor, Fellowship Community Church , Tennessee

Pastor Gary Montgomery, Senior Pastor, Parkway Baptist Church, Tennessee

Pastor Mike Myers, Assistant Pastor, Eastside Baptist Church, Tennessee

Pastor Chad Randall, Lead Pastor, LifeStory Church, Tennessee

Pastor Buddy Roberts, Jr., Tennessee

Assistant Pastor Grady Scott, Tennessee

Pastor and Representative Jerry Sexton, Tennessee

Myra Simons, Former Board President, Yes on One campaign, Tennessee

Pastor Rob Thacker, Faith Presbyterian Church, Tennessee

Minister, Mayor Chris Thompson, South Kentucky Association of Separatists, Tennessee

Pastor/Commissioner Tommy Vallejos, Care Pastor, Faith Outreach Church in Clarksville, Tennessee

Pastor Dale Walker, McCormick Ridge Holiness Church, Tennessee

Reverend Julie West, Tennessee

Buddy Pilgrim, Minister, Texas

Benjamin Dane, Producer, Pathlight Entertainment, Texas

Sandra Adams, STAND Executive Assistant, retired missionary, leader with Concerned Women for America, Virginia

Frank Branson, Chilhowie Christian Church, Virginia

John Gress, Event Planner, Covenant Church, Virginia

Rev. Dr. Paul Michael Raymond, The Reformed Bible Church, Virginia

Pastor Ken Sparks, Grace Baptist Church, Virginia

Pastor Buddy Thompson, Senior Pastor, Life Church, Virginia

Director Dean Welty, Founder and Director, Valley Family Forum, Virginia

Bishop Dr. David Hudson, United Pentecostal Church, West Virginia

Pastor Moyer Tim, Emmanuel Bible Church of Star Valley, Wyoming Pastors' Network, Wyoming

Representative & Pastor Nathan Winters, Associate Pastor, First Baptist of Thermopolis, Wyoming
Ted Cruz, Press Release - More than 200 Faith Leaders Endorse Ted Cruz For President Online by Gerhard Peters and John T. Woolley, The American Presidency Project https://www.presidency.ucsb.edu/node/315289