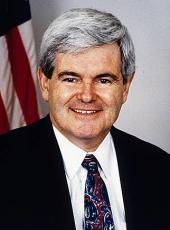 Press Release - More Jobs, More Revenue, More American Energy: A Bipartisan Opportunity
Originally Posted at HumanEvents.com
By Newt Gingrich
Washington is so stuck in partisanship and ideological warfare that our representatives are missing easy opportunities for bipartisan solutions that would actually make things better for all Americans.
A thousand small solutions may actually be preferable to a magic committee of twelve trying to create a gigantic (and almost certainly bad) deal.
House Republicans could take a creative step toward a bipartisan, thousand-solution strategy by passing a bill supported by Senate Democrats the first week they return to Washington.
Virginia Democratic Senators Mark Warner and Jim Webb have created such a bipartisan opportunity for a small building block toward success.
They have proposed something which will actually create jobs, grow federal, state, and local revenues with no tax increase, and speed the production of American energy.
Since the vast majority of Americans favor an American energy policy for economic and national security reasons, this bill should be very popular with Democrats, Republicans, and Independents.
Senators Webb and Warner introduced legislation last month that would force the federal government to move forward with offshore drilling in Virginia in an area still known as Lease Sale 220. The Obama Administration has postponed any decision on this area to at least 2017.
The Webb-Warner bill would also call for an updated resource assessment in the mid-Atlantic Outer Continental Shelf, which has not happened since 1984. It would establish a 50-50 revenue sharing plan for Virginia. The plan would direct 37.5% of any revenues to the Commonwealth of Virginia, and set aside an additional 12.5% for land and water conservation efforts, public transportation projects and alternative energy development projects in Virginia.
Offshore oil development could add more than 15,000 jobs in Virginia and add $3.2 billion to the Commonwealth's economy, according to a 2009 report published by the American Energy Alliance.
Governor Bob McDonnell supports the bill. Both candidates for U.S. Senate from Virginia in 2012 (Democrat Tim Kaine and Republican George Allen) also support it. Since Kaine was previously Chairman of the Democratic National Committee, his support may make it easier for some Democrats to vote in favor.
Senator Webb?'s statement described that the bill would direct the Department of Interior to include Lease Sale 220 in the nation's 2012-2017 five-year oil and gas lease plan.
The area could have a resource potential of as much as 750 million barrels of oil, but again, that number is based upon seismic research done more than 30 years ago with technology that is out of date today. Given new exploration capabilities and new drilling technologies, the real number could be billions of barrels.
Such outdated estimates have often dramatically underestimated the potential of American energy. The estimate of the Bakken formation in North Dakota has jumped 25 fold (2500%) since 1995 due to new technology.
The amount of natural gas in shale has increased our estimated supply of natural gas by more than 15 fold (1500%) in the last decade.
A modest 4 fold increase in the oil estimated off the coast of Virginia would yield reserves of three billion barrels of oil—a supply worth hundreds of billions of dollars.
New oilfield innovation has turned around a 25 year decline in American oil production, and domestic supplies are growing once again.
American oil production could grow even faster if President Obama?'s unnecessary regulatory barriers were removed. Drilling off the Virginia coast is an excellent place to start.
House Republicans should seize the opportunity.
They should pass the House bill exactly as it is and send it to the Senate to challenge Senators Webb and Warner to support their own bill.
There are a significant number of Democratic Senators who have said they favor energy development. This would be a chance for them to be bipartisan and solution-oriented.
With the support of some Democrats, President Obama would have to decide if he would veto a bipartisan bill that creates jobs, energy, and federal revenues.
Offshore drilling has enormous potential to be a first step toward breaking gridlock in Washington and toward a real plan to American Energy for Prosperity. Washington should act soon on this truly bipartisan plan.
Newt Gingrich, Press Release - More Jobs, More Revenue, More American Energy: A Bipartisan Opportunity Online by Gerhard Peters and John T. Woolley, The American Presidency Project https://www.presidency.ucsb.edu/node/297767