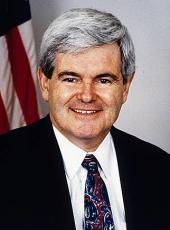 Press Release - Momentum: New Polls Show Newt in First Nationally, Iowa
Leads Romney, Cain in Head to Head Matchups
As Newt keeps his focus on providing substantive solutions and defeating President Obama in 2012, more and more Americans are standing with him. Two new national polls and an Iowa poll released today show Newt's momentum continues to grow and has catapulted him in to first place.
A poll from CNN with a margin of error of +/- 3 has Newt in a statistical tie with Romney for first place and receiving the highest favorability rating from Republican voters.
Romney - 24%

Gingrich - 22%

Cain - 14%
Favorability among Republican voters:
Gingrich - 61%

Romney - 55%

Cain - 47%
Meanwhile, a poll from Public Policy Polling has Newt in first place with 28%, climbing 18% in just two months. The poll also shows Newt with the highest favorability rating among Republicans at 68%.
Gingrich - 28%

Cain - 25%

Romney - 18%
In hypothetical head-to-head matchups among the top three contenders, Newt is also the clear winner.
Gingrich 56% / Cain 30%

Gingrich 57% / Romney 24%

Cain 44% / Romney 44%
In the key caucus state of Iowa Newt is also in a virtual tie for first, according to pollster Kellyanne Conway.
Cain - 20%

Gingrich - 19%

Romney - 14%
Substance and solutions matter, and Republican voters are clearly impressed with Newt's knowledge, experience, and ability to debate President Obama one-on-one.
UPDATE: A new Fox News poll also has Newt in first place.
Gingrich - 23%

Romney - 22%

Cain - 15%
Newt Gingrich, Press Release - Momentum: New Polls Show Newt in First Nationally, Iowa Online by Gerhard Peters and John T. Woolley, The American Presidency Project https://www.presidency.ucsb.edu/node/297758