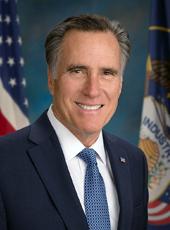 Press Release - Mitt Romney: President Obama Failed To Live Up To His Own Standards
"Almost every measure he described, [President Obama] has failed to perform upon. And the reason for that is not that he was not trying, in my view, it was he was pulling in the wrong direction. He did not know what it takes to actually make the economy work." –Mitt Romney
Remarks
Lakeland, FL
August 31, 2012
Click Here To Watch Mitt Romney
MITT ROMNEY: "Paul Ryan and I both spoke to the American people about what we will do if we become President and Vice President. And I contrast that with what the President said four years ago when he was candidate Barack Obama. He got up and made a number of promises in Denver with the Greek columns behind him. He doesn't remind us of the Greek columns because he had said that he would cut the deficit in half. Measure him on that. How did that work out? He doubled the deficit. He said that he would be measured in a different way than other people are typically measured. He would be measured by whether he created jobs or not. He hasn't. He said he would be measure by whether people have rising incomes or not. They don't. Incomes are down in this country. He said he would be measured by whether people would take the risk to go out and start a business. We're at a 30 year low in new business start-ups. Almost every measure he described, he has failed to perform upon. And the reason for that is not that he was not trying, in my view, it was he was pulling in the wrong direction. He did not know what it takes to actually make the economy work. Paul Ryan and I understand how the economy works."
Click Here To Watch Paul Ryan
PAUL RYAN: "Coming out of Tampa, we have given our fellow countrymen a very clear choice. We can either stay on the path that America has been placed upon by President Obama: a path of debt, a path of doubt, a path of decline. Or we can get people back to work. We can restore growth in this economy and opportunity in our economy. And the way we do that is we elect this man, Mitt Romney, as next President of the United States. President Obama made a whole bunch of promises when he ran for president. And now, we see a laundry list of broken promises. 23 million people are struggling to find work today. The unemployment rate in Florida is 8.8 percent. Foreclosures, houses underwater, the highest poverty rates in a generation. Half of all college graduates are either unemployed or are not working in the field they studied for. College graduates should not spend their 20's in their childhood bedrooms looking up at fading Obama posters wondering when they can move out and get on with their lives."
Mitt Romney, Press Release - Mitt Romney: President Obama Failed To Live Up To His Own Standards Online by Gerhard Peters and John T. Woolley, The American Presidency Project https://www.presidency.ucsb.edu/node/303005