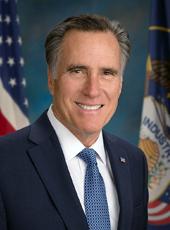 Press Release - Mitt Romney Announces Support of North Carolina Representatives
Mitt Romney today announced the support of North Carolina Congressman Howard Coble, Congresswoman Virginia Foxx and Congressman Patrick McHenry.
"It is an honor to have the support of these North Carolina public servants," said Mitt Romney. "North Carolina will be a critical state in the contest to defeat President Obama. In the three years since President Obama's election, North Carolina has faced more hardship than many other states. I will work with these leaders from the state to help revitalize the economy and make North Carolina a leader in our economic recovery."
"Mitt Romney has been a successful leader his entire life," said Congressman Coble. "Whether it was business, the Winter Olympics, or as governor, Mitt Romney has proven that he can turn around troubled enterprises. Right now, North Carolina and the country need a leader to engineer an economic turnaround."
Announcing her support, Congresswoman Foxx said, "North Carolina has suffered under President Obama's policies. Burdensome regulations have slowed the industries that turned North Carolina into a job-creating machine. Mitt Romney has put forth a plan to get North Carolina and the country on a path to prosperity once again. As a conservative businessman, Mitt Romney has the economic know-how to change our economy fundamentally. I am proud to support him."
"After three years, President Obama has failed to deliver on his promise to fix our economy," said Congressman McHenry. "It is clear that his overtaxing, overregulating and overspending are not the prescription for our failing economy. Mitt Romney has an economic plan that puts conservative principles in place to restart the economy and put North Carolinians back to work. Mitt Romney is also Republicans' best chance to defeat President Obama so that we can repeal Obamacare. I look forward to working with him in his campaign to bring back jobs to North Carolina and make our state a leader in job growth once again."
Background On North Carolina Representatives Endorsing Mitt Romney:
Congressman Howard Coble is the longest serving Republican Congressman in North Carolina history. In the House, Coble serves on the Judiciary Committee. Prior to serving in the U.S. House, Coble served in the North Carolina House of Representatives and was the North Carolina Secretary of Revenue under Governor James Holshouser.
Congresswoman Virginia Foxx has served North Carolina's 5th District since 2004. Foxx is the Chairwoman of the House Subcommittee on Higher Education. She also serves on the House Committee on Rules.
Congressman Patrick McHenry was elected in 2004. McHenry serves as the Deputy Republican Whip and is a member of the Financial Services Committee and Committee on Oversight and Government Reform. Prior to his election to Congress, McHenry served in the North Carolina House Of Representatives.
Mitt Romney, Press Release - Mitt Romney Announces Support of North Carolina Representatives Online by Gerhard Peters and John T. Woolley, The American Presidency Project https://www.presidency.ucsb.edu/node/298872