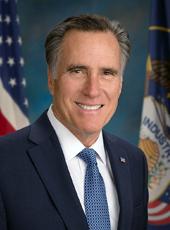 Press Release - Mitt Romney Announces Support of New Jersey Leaders
Mitt Romney today announced the support of New Jersey leaders, including 14 of the 16 Republican members of the State Senate, and 28 of the 33 Republican members of the New Jersey State Assembly, 37 of 42 members of the New Jersey Republican State Committee, and all 21 Republican county chairs.
"I am so proud to have the support of so many conservative New Jersey leaders," said Mitt Romney. "This wide range of support shows that my message of reining in government spending, lowering taxes, and creating jobs is resonating with voters in the Garden State. I look forward to working with these distinguished men and women to get our country back on track."
Announcing the additional New Jersey endorsements, Governor Chris Christie said, "I firmly believe that Mitt Romney is the only candidate in either party who can restore our nation's fiscal health and get Americans back to work. Our country needs a president who knows that lasting prosperity will not come unless we pay down our debt and create jobs for the middle class. Mitt Romney has spent his life in the real economy and this valuable experience is what we need in our next president."
New Jersey Elected Officials And Leaders Endorsing Mitt Romney:
Senator Diane B. Allen 
Senator Dawn Marie Addiego 
Senator Christopher J. Connors
Senator Andrew R. Ciesla 
Senator-Elect James W. Holzapfel
Senator Sean T. Kean 
Senator Jennifer Beck 
Senator Joseph M. Kyrillos, Jr. 
Senator Christopher 'Kip' Bateman 
Senator Thomas H. Kean, Jr.
Senator Steven V. Oroho
Senator Anthony R. Bucco
Senator Joseph Pennacchio
Senator Robert W. Singer
Senator Kevin J. O'Toole 
Assemblyman John F. Amodeo
Assemblyman-Elect Chris Brown
Assemblyman Scott Rudder
Assemblyman-Elect Christopher Brown
Assemblyman Brian E. Rumpf
Assemblywoman Dianne C. Gove
Assemblyman David W. Wolfe
Assemblyman-Elect Gregory McGuckin
Assemblywoman Mary Pat Angelini
Assemblyman David Rible
Assemblyman Declan J. O'Scanlon, Jr.
Assemblyman-Elect Robert Clifton
Assemblywoman Amy H. Handlin
Assemblywoman Denise M. Coyle
Assemblyman Jack M. Ciattarelli
Assemblyman Jon M. Bramnick
Assemblywoman Nancy F. Munoz
Assemblyman Erik Peterson
Assemblyman John DiMaio
Assemblyman Gary R. Chiusano
Assemblyman Anthony M. Bucco
Assemblyman Alex DeCroce
Assemblyman Jay Webber
Assemblyman Ronald S. Dancer
Assemblyman Joseph Malone
Assemblywoman Charlotte Vandervalk
Assemblyman Robert Schroeder
Assemblywoman-Elect Holly Schepisi
Assemblyman David C. Russo
Assemblywoman Caroline Casagrande
Atlantic County Freeholder At Large Elect Alex Marino
Atlantic County Freeholder District 2 Chair Frank D. Formica
Atlantic County Sheriff Frank Balles
Bergen County County Executive Kathleen Donovan
Bergen County Freeholder John D. Mitchell
Bergen County Freeholder Robert Hermansen
Bergen County Freeholder John Felice
Bergen County Freeholder Maura DeNicola
Bergen County Freeholder Chairman John Driscoll
Bergen County Sheriff Michael Saudino
Burlington County County Clerk Timothy D. Tyler
Burlington County Freeholder Director Bruce Garganio
Burlington County Freeholder Joseph Donnelly
Burlington County Freeholder Mary Ann O'Brien
Burlington County Freeholder-Elect Leah Arter
Burlington County Freeholder-Elect Joe Howarth
Burlington County Sheriff Jean E.  Stanfield
Cape May County County Clerk Rita Marie Fulginiti
Cape May County Freeholder Gerald M. Thornton
Cape May County Freeholder M. Susan Sheppard
Cape May County Freeholder-Elect Kristine Gabor
Cape May County Sheriff Gary G. Schaffer
Cumberland County Clerk Gloria Noto
Cumberland County Freeholder Thomas Sheppard
Cumberland County Freeholder Sam Fiocchi
Cumberland County Freeholder Carl Kirstein
Cumberland County Freeholder-Elect Mary Gruccio
Gloucester  County Freeholder Larry  Wallace
Hunterdon County County Clerk Mary H. Melfi
Hunterdon County Freeholder William G. Mennen
Hunterdon County Freeholder Ronald M. Sworen
Monmouth County County Clerk M. Claire French
Monmouth County Freeholder Deputy Director John P. Curley
Monmouth County Freeholder Lillian G. Burry
Monmouth County Freeholder Thomas A. Arnone
Monmouth County Freeholder-Elect Gary Rich
Monmouth County Sheriff Shaun Golden
Morris County County Clerk Joan Bramhall
Morris County Freeholder Director Gene Feyl
Morris County Freeholder Deputy Director Douglas R. Cabana
Morris County Freeholder Margaret Nordstrom
Morris County Freeholder Thomas J. Mastrangelo
Morris County Freeholder John J. Murphy
Morris County Sheriff Edward Rochford
Passaic County Freeholder Edward O'Connell
Passaic County Freeholder Michael Marotta
Passaic County Freeholder Deborah E. Ciambrone
Somerset County County Clerk Brett A. Radi
Somerset County Freeholder Deputy Director Patricia L. Walsh
Somerset County Freeholder Patrick Scaglione
Somerset County Freeholder Mark Caliguire
Somerset County Freeholder Peter S. Palmer
Somerset County Sheriff Frank J. Provenzano
Sussex County County Clerk  Jeffrey M. Parrott
Sussex County Freeholder Richard A. Zeoli
Sussex County Freeholder Phillip R. Crabb
Sussex County Freeholder Richard A. Vohden
Sussex County Sheriff  Michael F.Strada
Warren County Freeholder Deputy Director Richard D.  Gardner
Warren County Freeholder Jason J. Sarnoski
Atlantic County Chairman Keith Davis
Bergen County Chairman Bob Yudin
Burlington County Chairman Bill Layton
Camden County Chairman Tom Booth
Cape May County Chairman Mike Donohue
Cumberland County Chairman Bob Greco
Essex County Chairman Al Barlas
Gloucester County Chairman Bill Fey
Hudson County Chairman Jose Arango
Hunterdon County Chairman Henry Kuhl
Mercer County Chairman Maria Bua
Mercer County Chairman David Fried
Middlesex County Chairman - Assemblyman Sam Thompson
Monmouth County Chairman Joseph Oxley
Morris County Chairman John Sette
Ocean County Chairman George Gilmore
Passaic County Chairman - Assemblyman Scott Rumana
Salem County Chairman Mike Facemyer
Somerset County Chairman Al Gaburo
Sussex County Chairman Ailish Hambel
Union County Chairman Phil Morin
Warren County Chairman Doug Steinhardt
New Jersey GOP State Chairman Samuel S. Raia
New Jersey GOP State Vice Chair Lynda Pagliughi
New Jersey GOP State Treasurer John Bennett
New Jersey GOP State Secretary Mary J. Chyb
Atlantic County State Committeeman Phil Guenther
Atlantic County State Committeewoman Sonya Harris
Bergen County State Committeeman Ben  Focarino
Bergen County State Committeewoman Eleanore Nissley
Burlington County State Committeeman Larry Chatzidakis
Camden County State Committeeman Jeff Kasko
Camden County State Committeewoman Marie Knott
Cumberland County State Committeeman Troy Ferus
Cumberland County State Committeewoman Gloria Noto
Essex County State Committeeman Tom McDermott
Essex County State Committeewoman Marie Vicchiariello
Hudson County State Committeeman Lee Lichtenberger
Hudson County State Committeewoman Irene Kim Asbury
Hunterdon County State Committeewoman June DeHoff
Mercer County State Committeeman Jack Rafferty
Mercer County State Committeewoman Janice Mintz
Middlesex County State Committeeman Don Katz
Monmouth County State Committeewoman Christine Hanlon
Morris County State Committeeman Larry Casha
Morris County State Committeewoman Christina Ramirez
Ocean County State Committeeman Tom Kelaher
Ocean County State Committeewoman Ginny Haines
Passaic County State Committeeman Scott Heck
Passaic County State Committeewoman Jennifer  Scully
Salem County State Committeeman Ernest Tark
Salem County State Committeewoman Ann Tark
Somerset County State Committeeman Vic Sordillo
Somerset County State Committeewoman Claire Eckert
Sussex County State Committeeman - Freeholder F. Parker Space
Sussex County Committeewoman Jill M. Space
Union County State Committeeman James M.  Foerst
Union County State Committeewoman Patricia Quattrocchi
Warren County State Committeeman Chad Chamberlain
Warren County State Committeewoman Holly Mackey 
Mitt Romney, Press Release - Mitt Romney Announces Support of New Jersey Leaders Online by Gerhard Peters and John T. Woolley, The American Presidency Project https://www.presidency.ucsb.edu/node/298417