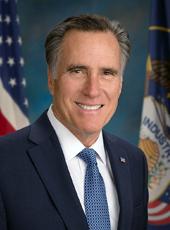 Press Release - Mitt Romney Announces Support of Donald Trump
Mitt Romney today announced the support of Donald Trump. Mr. Trump joins a growing list of over 2,500 elected officials, leaders and activists from across the country who have endorsed Mitt Romney.
"I am humbled by the endorsements I have received from Republicans across the political spectrum. Donald Trump's endorsement of me today sends a strong signal that he believes we have the best chance to make President Obama a one-term president," said Mitt Romney. "We share both a background in the private sector and a belief that Washington needs to get out of the way of small business. His support is a sign that business leaders are fed up with Washington and want someone with actual experience creating jobs and working in the real economy in the White House."
Donald Trump Joins These Public Figures In Endorsing Governor Romney:
New Jersey Governor Chris Christie
Virginia Governor Bob McDonnell
South Carolina Governor Nikki Haley
Nebraska Governor Dave Heineman
Utah Governor Gary Herbert
Tennessee Governor Bill Haslam
Former Minnesota Governor Tim Pawlenty
Former New Hampshire Governor John Sununu
Former Rhode Island Governor Don Carcieri
Former New Hampshire Governor and Senator Judd Gregg
Former Utah Governor Jon Huntsman
Senator John McCain (AZ)
Senator Kelly Ayotte (NH)
Senator Rob Portman (OH)
Senator John Thune (SD)
Senator Lisa Murkowski (AK)
Senator Jim Risch (ID)
Senator Mark Kirk (IL)
Senator Roy Blunt (MO)
Senator Thad Cochran (MS)
Senator Richard Burr (NC)
Senator John Hoeven (ND)
Senator Mike Johanns (NE)
Senator Orrin Hatch (UT)
Congressman Darrell Issa (CA)
Congressman Connie Mack (FL)
Congresswoman Cathy McMorris Rodgers (WA)
Congressman Greg Walden (OR)
Congressman Jason Chaffetz (UT)
Congressman Jeff Flake (AZ)
Congressman Mario Diaz-Balart (FL)
Congresswoman Ileana Ros-Lehtinen (FL)
Congressman Mark Amodei (NV)
Congresswoman Kay Granger (TX)
Congressman Charlie Bass (NH)
Congressman Aaron Schock (IL)
Florida Attorney General Pam Bondi
Colorado Attorney General John Suthers
Michigan Attorney General Bill Schuette
Arizona Attorney General Tom Horne
Maine Attorney General William Schneider
Florida Commissioner of Agriculture Adam Putnam
Pinal County Sheriff Paul Babeu
Conservative Leader Bay Buchanan
Conservative Leader Christine O'Donnell
Professor Mary Ann Glendon
Scott McNealy, CEO of Sun Microsystems
Meg Whitman, CEO of Hewlett-Packard
Andy Puzder, CEO of CKE Restaurants
Mitt Romney, Press Release - Mitt Romney Announces Support of Donald Trump Online by Gerhard Peters and John T. Woolley, The American Presidency Project https://www.presidency.ucsb.edu/node/299700