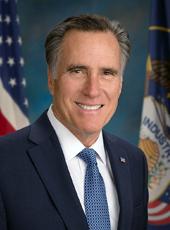 Press Release - Mitt Romney Announces Arizona Endorsements
Mitt Romney today announced endorsements in Arizona.
"Arizona is an important state in my campaign and I am thrilled to receive the support of so many outstanding leaders from this great state," said Mitt Romney. "We will work together to spread the message of economic growth, job creation, and fiscal responsibility."
"We are facing a critical time in our nation's history. Millions of Americans are suffering under the current failed economic policies of President Obama. I know Mitt Romney has the experience, vision and plan to get Americans back to work," said Paul Gilbert, Romney Arizona Co-Chair.
"Governor Romney understands America's free enterprise system and how it can work for everyone. He has a well-defined plan for returning our great country to full employment. He has demonstrated his abilities to fix difficult situations throughout his business career, including turning around a failing Olympic effort into one of the most successful games ever, and his governorship of Massachusetts," said Romney Arizona Co-Chair Jim Click.
"President Obama has led this country in the wrong direction. Our national debt is out of control and his policies have stifled job creation. It's time to elect a leader with real experience to turn this economy around and put Americans back to work," said Arizona Secretary of State Ken Bennett.
"Mitt Romney is the only candidate with the vision, experience and leadership to get this economy moving again," said Arizona Attorney General Tom Horne. "His experience is unparalleled and he has what it takes to create jobs and get spending under control."
Arizona Co-Chairs
Secretary of State Ken Bennett
Attorney General Tom Horne
House Speaker Andy Tobin
Paul E. & Susan Gilbert
Lee & Nancy Hanley
Ambassador Barbara & Dr. Craig R. Barrett
Jim & Vicki Click
Kevin & Melissa DeMenna
Arizona Legislative Endorsements
House Majority Leader Steve Court
Senator Rich Crandall (Education Chairman)
Senator Michele Reagan (Economic Development & Jobs Creation Chairwoman)
Senator Adam Driggs (Veterans & Military Affairs Chairman)
Senator John McComish (Banking & Insurance Chairman)
Representative Bob Robson (Employment & Regulatory Affairs Chairman)
Representative Cecil Ash (Health & Human Services Chairman)
Representative Tom Forese (Higher Education, Innovation & Reform Chairman)
Representative Russ Jones (Agriculture & Water Chairman)
Representative Doris Goodale (Education Chairwoman)
Representative Peggy Judd (Member of Health & Human Services, Agriculture & Water and Energy & Natural Resources committees)
Representative Nancy McLain (Banking & Insurance Chairwoman)
Representative Justin Olson (Appropriations Vice-Chairman)
Representative Karen Fann (Environment Vice-Chairwoman)
Representative Heather Carter (Health & Human Services Vice-Chairwoman)
Representative Steve Urie (Member of Appropriations Committee, Agriculture & Water Committee & Government Committee)
Arizona Finance Committee
Fred Ash
Cecil & Linda Ash
Ernie & Ginna Baird
Denny & Nichole Barney
Edward "Trey" Basha
Leo & Annette Beus
Max & Debbie Boyer
Nancy & Art Case
Steven R. Chanen
Sam Cowley
Eric Crown
Greg & Demi Davis
Debbie Forrest
Phil Francis
Ira A. & Mary Lou Fulton
Al & Kathleen Gardner
Mark Goldman
Todd & Ashley Heap
Dr. Karl & Diana Hiatt
Paul Hickman
David & Rena Hoefferle
Dr. Bill & Susan Horsley
Mike Ingram
Dave Johnson
Rex & Ruth Maughan
Steve & Debbie Moak
Chris & Irene Monson
Jerry & Vickie Moyes
Francis Najafi
Todd & Amy Nelson
John Norton
Andrew Pacheco
Ed Parker
John & Verna Perkinson
Marian & Michael Pickerd
Bob & CC Porter
Steve & Marilyn Rizley
Tyler & Kristen Robison
Diane Ruebling
Heather & Paul Sandstrom
Quinton Seamons
Don Stapley
Don Tapia
Peter Thomas
Eddy & Heather Torriente
Danny & Jo Lynn White
Jeff & Holly Whiteman
Bob & Christi Worsley
Mitt Romney, Press Release - Mitt Romney Announces Arizona Endorsements Online by Gerhard Peters and John T. Woolley, The American Presidency Project https://www.presidency.ucsb.edu/node/298520