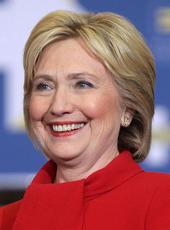 Press Release - Meet the Former Janitor Who Saved Up $1000 To Donate To Hillary Clinton
"She helped so many people. I wanted to be able to help her."
Marquis Boston wasn't sure what to put in the "occupation" field on his donation form. He was hired as a janitor at the hotel where he worked in Little Rock, Arkansas, but he always tried to help out wherever he was needed—at the front desk, taking items up to guest rooms, or filling in for someone so they could take a break. He didn't want get it wrong, though. So he entered "janitor."
Then he clicked submit, donating $1,000 to Hillary Clinton's presidential campaign.
Boston had been saving up for months. Instead of going to the barber every week, he started going every other week. He cut junk food from his grocery list, walked instead of driving whenever he could, and learned how to change his own oil.
"It was easy for me to do," Boston says, "because I knew donating to the campaign would mean so much to so many people. It would give Secretary Clinton a chance to change millions of lives. That's more important to me than those little things were."
Boston first became a fan of Hillary in the early ?90s, when she pushed for universal health care. He remembers being impressed by how much she cared about the well-being of other people.
"She was the president's wife. She had health care, her daughter had health care. They weren't going to benefit from this. But the way she fought, it was like her own life was on the line, and the fact that she was willing to go so far in order to improve the lives of regular people really got to me."
He continued to follow Hillary's career through the United States Senate and her first presidential run in 2008. He remembers admiring the way she urged her supporters to rally behind then-Senator Barack Obama, and later accepted a position in his presidential cabinet.
"The president asked her to take one of the hardest jobs in the country, and she took it, because she knew that she could help millions of people in that job. It was inspiring to watch."
It was then that Boston decided he would do everything could to support Hillary if she were to run again.
Word of his large donation spread quickly—and eventually, the story made its way to Hillary for America headquarters in Brooklyn. Before long, Boston got a letter inviting him to attend a dinner Hillary was hosting in Little Rock.
He was in shock—and remained in shock all the way up until the actual dinner, when he finally found himself face to face with the woman he'd admired for more than three decades.
"I couldn't feel anything, I was so overwhelmed. I remember pinching myself—actually, physically pinching myself—to make sure it was real, and still not being 100 percent sure until my skin turned red."
Now, Boston is urging others to support Hillary's candidacy.
"I know that not everybody can give money, and I don't want people to get fixated on the amount I donated. We all have bills, you know? But even though not everyone can donate, we can all support the campaign by registering to vote, and making sure that we hit the polls when the time comes. That's more important than anything."
Today is the last fundraising deadline before the first people in the country make their decision in this election. Chip in what you can afford to help Hillary win in Iowa.
Hillary Clinton, Press Release - Meet the Former Janitor Who Saved Up $1000 To Donate To Hillary Clinton Online by Gerhard Peters and John T. Woolley, The American Presidency Project https://www.presidency.ucsb.edu/node/317501