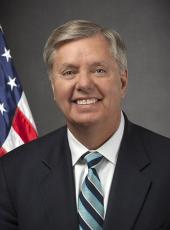 Press Release - McCain Says He's In New Hampshire With Graham Because 'He's Got The Experience, The Talent, The Background And The Knowledge' To Be Commander-In-Chief
WMUR's Mike Cronin: "One Of The Most Frequent Presidential Candidates To Visit New Hampshire, [Graham], Is Back With His Friend And Two-Time Winner Of The First-In-The-Nation Primary, Sen. John McCain."
Senator Lindsey Graham campaigned in the Granite State with Senator John McCain this past weekend where Graham continued to lay out his plan to defeat radical Islam and keep our nation secure, while Senator McCain urged voters to elect Graham Commander-in-Chief. In case you missed it, take a look at some of the coverage it made:
Cronin: "It was a busy outing for the presidential hopeful...he focused his discussion on defeating ISIS, a victory he said will require boots on the ground in Syria and Iraq."
(Mike Cronin, "Sens. Graham and McCain team up in Hudson," WMUR, 11/21/15)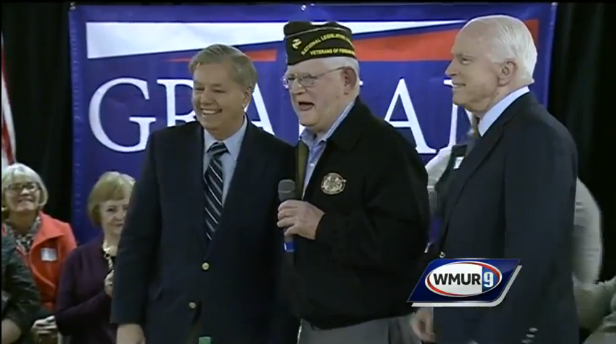 Nashua Telegraph: State Rep. Richard Hinch: "[Graham] Has The Experience And The Understanding Of The Area And What Needs To Be Done..."
"State Rep. Richard Hinch, the Republican House Majority Leader from Merrimack who has not yet publicly endorsed any candidate, said the Paris attacks have changed the conversation in New Hampshire as White House hopefuls meet with voters..."I think (Graham) is worthy of a second look. He has the experience and the understanding of the area and what needs to be done..." (Chris Garofolo, Graham calls for boots on ground," Nashua Telegraph, 11/22/15)
Union Leader: "Graham Said The Horrific Attack A Week Ago Underscores The Need For A Candidate With Experience With Military And Foreign Policy."
"Republican presidential hopeful Lindsey Graham said the attacks in Paris show he's the most consistent voice in confronting Islamic State terrorism...Appearing with Sen. John McCain, R-Ariz., again on the campaign trail, Graham said the horrific attack a week ago underscores the need for a candidate with experience with military and foreign policy." (Dan Tuohy, "Graham claims mantle as the one to defeat ISIS,"Union Leader, 11/21/15)
Nashua Telegraph: Laurie Jasper: "I Think He's The Only One Who Knows What He's Doing And Could Be Commander-In-Chief On Day One. I Wish He Was Commander-In-Chief Now."
"Introducing the senators was Laurie Jasper, of Hudson, who has come out in support of Graham. She referred to Graham and McCain as two of her heroes and praised her choice's extensive knowledge on global issues and his deep love for country..."I think people need to listen to him, because he does have a plan, and I think he's the only one who knows what he's doing and could be commander-in-chief on Day One. I wish he was commander-in-chief now." (Chris Garofolo, Graham calls for boots on ground," Nashua Telegraph, 11/22/15)
Graham: "I Have A Plan To Win A War We Cannot Afford To Lose. I Have The Experience. I've Been There 35 Times Over The Last Decade, 30 Years In The Air Force, I Know What Works And What Doesn't."
(The Real Story, "Graham: Obama is overwhelmed when it comes to radical Islam," FOX News, 11/20/15)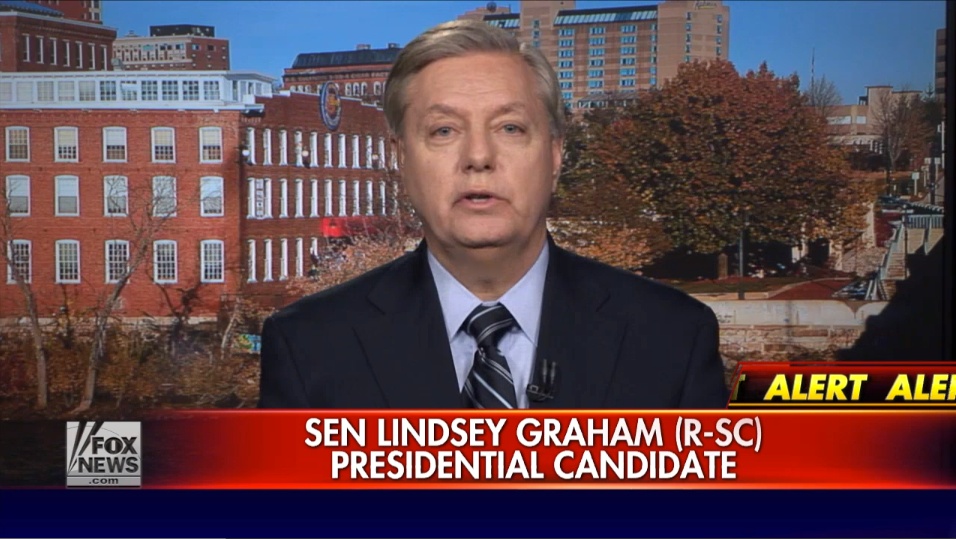 "President Obama's policies are not working, you cannot destroy these guys from the air. At the end of the day if you don't go in on the ground soon with American boots on the ground as part of a regional force, we're going to get attacked here at home. I've been saying that for two years and I hope that people will wake up."
Graham: "I Want To Play Offense. The Way You Destroy ISIL And Prevent An Attack On Our Homeland Is To Go Where ISIL Resides"
"I've got an authorization to use military force that I will introduce after thanksgiving that allows us to go any place, any time, using any means to destroy ISIL just like we did after we were attacked on 9/11 regarding Al Qaeda, it's the same concept... Again, we're playing defense. I want to play offense. The way you destroy ISIL and prevent an attack on our homeland is to go where ISIL resides; a large regional army to go in and take the caliphate away from ISIL. There is no other substitute for this."
Graham: "[ISIL's] A Credible, Imminent Threat To The Homeland More Than The Al-Qaeda Offshoot In Mali. We Should Help The French And The Mali Government But We Should Be On The Ground Tomorrow If We Could Get There Destroying ISIL In Syria."
(The Lead with Jake Tapper, "Sen. McCain: Posturing going on in regard to refugees," CNN, 11/20/15)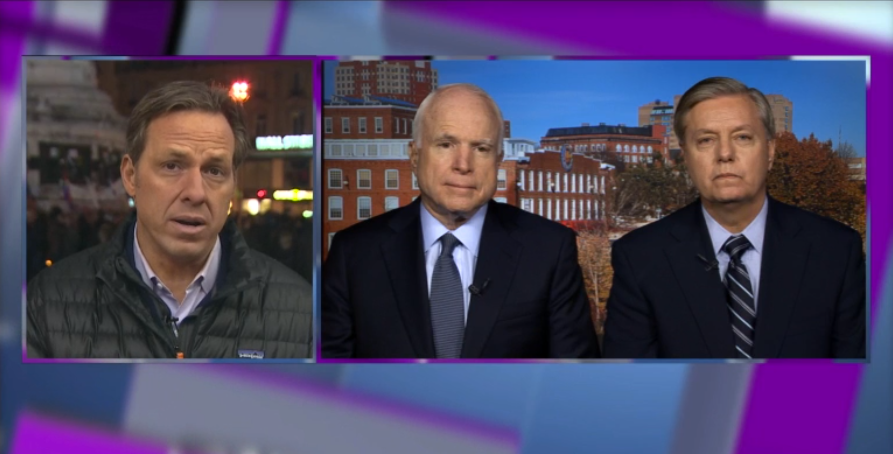 McCain: "It's A Little Hard To Do What Lindsey Graham And I Are Saying And That's To Do What's Necessary To Stop It."
"And again I want to emphasize what Lindsey said. We're looking so hard and everybody's fired up about the refugees, why don't we address the problem that caused the refugees. You know it's easy to stand up there and say we're going to stop the refugees, it's a little hard to do what Lindsey Graham and I are saying and that's to do what's necessary to stop it. And so I think there's a little bit of theatrics going on here and all due respect."
Graham: "Send [The Syrian Refugees] Back To Their Homes With A Safe Haven, A Place They Can Go Without Being Killed, And Get About Destroying ISIL"
"How about this idea: make sure they don't have to leave their country to begin with because they don't want to leave. But they're being raped and murdered in large numbers by Assad and ISIL and other terrorist groups... stop the reason they leave. Send them back to their homes with a safe haven, a place they can go without being killed, and get about destroying ISIL, which is the right goal - but we don't have the right strategy — before it's too late. I have the experience to win a war that we cannot afford to lose and I hope after the last week people understand that experience does matter."
McCain: "I'm up here in New Hampshire with Lindsey Graham because I think he's got the experience, the talent, the background, and the knowledge [To Be Commander-In-Chief]"
(Hugh Hewitt, "Senators Lindsey Graham and John McCain on the Terrorist Attacks in Mali and Paris Recent Obama Speech on the Refugee Crisis," The Hugh Hewitt Show, 11/20/15)

Graham: "Two Years Ago, I Was Talking About Boots On The Ground As A Formula To Go Forward To Destroy ISIL In Iraq And Syria."
"The French are going on the offense and President Obama is trying undersell the threat and oversell our successes. Between John Kerry and Barack Obama, radical Islam is running wild and we don't have a strategy that will lead to success no matter what the president says...Two years ago, I was talking about boots on the ground as a formula to go forward to destroy ISIL in Iraq and Syria. You have to do it both places. Now people are coming my way in terms of rhetoric, but they really don't have the vision to destroy ISIL. They're talking about boots on the ground because they politically have to. I've been talking about it because we actually need them."
"[President Obama] Assured Us All That ISIL Is The JV Team, That Bin Laden And Al-Qaeda Has Been Decimated. He Doesn't Understand The Nature Of The Threat, Oversells Our Successes, And He Undersells The Threat."
Lindsey Graham, Press Release - McCain Says He's In New Hampshire With Graham Because 'He's Got The Experience, The Talent, The Background And The Knowledge' To Be Commander-In-Chief Online by Gerhard Peters and John T. Woolley, The American Presidency Project https://www.presidency.ucsb.edu/node/325750