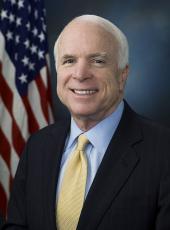 Press Release - McCain-Palin 2008 Launches Truth Squad to Counter Attacks on Governor Sarah Palin
ARLINGTON, VA -- With today's Wall Street Journal report that pro-Obama Democrats have "airdropped a mini-army of 30 lawyers, investigators and opposition researchers into Anchorage" to dig for dirt on our vice presidential nominee, the McCain-Palin campaign today launched the Palin Truth Squad to counter recent attacks on Governor Sarah Palin, her family, her friends and her record of accomplishment. The Palin Truth Squad will set the record straight against Internet and liberal smears of Governor Palin.
"We're proud of Governor Palin's leadership in Alaska and record of taking on entrenched special interests and the good old boys network," said former Governor Jane Swift. "Governor Palin's commitment to reform is well-known but there are those who would seek to distort that record with vile rumors and smears against her, her husband, her children and her friends. We will not allow those on the left and in the media to smear a woman who has always served her constituents with honor. We know the truth and are committed to ensuring it as well."
In the event of false attacks, rumors and smears against Governor Palin, the Palin Truth Squad will issue alerts and statements to voters and the media to set the record straight. Additionally, the Truth Squad will be available to respond to inquiries from the media.
National Members Of The Palin Truth Squad:
Former Governor Jane Swift (R-MA)

Governor Linda Lingle (R-HI)

Lt. Governor Sean Parnell, (R-AK)

Congresswoman Michele Bachmann (R-MN)

Congressman Marsha Blackburn (R-TN)

Congresswoman Shelley Moore Capito (R-WV)

Congresswoman Thelma Drake (R-VA)

Congresswoman Mary Fallin (R-OK)

Congresswoman Virginia Foxx (R-NC)

Congresswoman Kay Granger (R-TX)

Congresswoman Cathy McMorris Rodgers (R-WA)

Congresswoman Candice Miller (R-MI)

Congresswoman Sue Myrick (R-FL)

Congresswoman Ileana Ros-Lehtinen (R-FL)

Congresswoman Heather Wilson (R-NM)

Jo Ann Davidson, RNC Co-Chair

Rosario Marin, Former U.S. Treasurer

Meg Stapleton, Former Aide To Governor Palin

Kristan Cole, Lifelong Friend Of Governor Palin
State Members Of The Palin Truth Squad:
Former Lt. Governor Jane Norton (CO)

State Representative Amy Stephens (CO)

State Board of Education Member Peggy Littleton (CO)

State Representative Ellyn Bogdanoff (FL)

County Commissioner Mildred Fernandez (FL)

Former Iowa Senate President And Former U.S. Ambassador To The Eastern Caribbean, Mary Kramer (IA)

State Representative Jackie Walorski (IN)

State Representative Laura Brod (MN)

Former GOP State Party Chairwoman And Former State Rep. Barb Sykora (MN)

Jayne Millerick, Former NH GOP Chair (NH)

State Senator Jennifer Beck, Honorary Co-Chair NJ Women For McCain-Palin (NJ)

Assemblywoman Alison Littell McHose, Honorary Vice Chair NJ Women For McCain-Palin (NJ)

Bergen County Clerk Kathe Donovan, Honorary Co-Chair NJ Women For McCain-Palin (NJ)

DA Dona Ana County Susana Martinez (NM)

Former Lt. Gov. Lorraine Bono-Hunt (NV)

State Senator Barbara Cegavske (NV)

State Assemblywoman Heidi Gansert (NV)

Sue Lowden, Nevada GOP Chair (NV)

Kay Ayres, OH GOP Vice Chair (OH)

Betty Montgomery, Ohio Women For McCain-Palin Chair (OH)

Mary Taylor, Ohio Auditor Of State (OH)

Margie Hughes, Clackamas County Chair Of Women For McCain-Palin (OR)

Linda Neace, West Linn Small Business Owner For McCain-Palin (OR)

Deanna Smith, Women For McCain-Palin Chairwoman (OR)

Renee Amoore, PA GOP Deputy Chair (PA)

Joyce Haas, PA GOP Vice Chair (PA)

State Senator Lisa Baker (PA)

Diana Irey, Washington County Commissioner (PA)

Christine Toretti, RNC National Committeewoman and McCain-Palin Pennsylvania Co-Chair (PA)

Kim Ward, Westmoreland County Commissioner and McCain-Palin Pennsylvania Regional Chair (PA)

Former First Lady Susan Allen (VA)

Lori Ann Miller, Young Republican Federation Of VA Chairman (VA)

Former Lt. Gov. Margaret Farrow (WI)

Peggy Oban Boze, McCain-Palin Chairwomen For King County (WA)

Susan McCaw, Former Ambassador To Austria (WA)

Della Newman, Former Ambassador To New Zealand (WA)
John McCain, Press Release - McCain-Palin 2008 Launches Truth Squad to Counter Attacks on Governor Sarah Palin Online by Gerhard Peters and John T. Woolley, The American Presidency Project https://www.presidency.ucsb.edu/node/292038