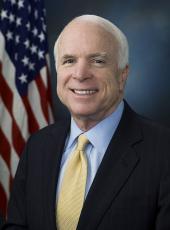 Press Release - McCain Campaign Launches "Journey to Freedom"
ARLINGTON, VA -- U.S. Senator John McCain's presidential campaign today launched a new web video entitled "Journey to Freedom," commemorating the 35th anniversary of John McCain's release on March 15, 1973 from the infamous "Hanoi Hilton" after being held for 5 1/2 years as a prisoner of war.
The web video features fellow former POWs LtCol. Orson Swindle, USMC (Ret.) and Cdr. Paul Galanti, USN (Ret.), as well as John McCain's mother, Mrs. Roberta McCain.
John McCain is a decorated navy captain with a distinguished personal record and family history of service to our country. The son and grandson of two Admirals, McCain spent 5 1/2 years as a POW in Vietnam. He commanded the U.S. Navy's largest squadron. His Naval honors include the Silver Star, Bronze Star, Legion of Merit, Purple Heart, and the Distinguished Flying Cross.
VIEW THE NEW WEB VIDEO HERE: http://www.johnmccain.com/journeyfreedom; http://www.youtube.com/watch?v=Ypn76M0Wm-k
A group of John McCain's fellow former POWs released the following letter commemorating the 35th Anniversary of his release:
Dear Friend,
March is a memorable time for the Americans who were released from captivity in North Vietnam during the month back in 1973. The pathway to freedom began in February, as the war in Vietnam was concluding for America.
John McCain, one of those American heroes, returned to freedom on March 15th, 1973, released from Hanoi that day along with other very happy American Prisoners of War. His journey home was the continuation of a remarkable story with chapters yet to be written. Having survived life-threatening and disabling injuries, along with the brutality of the POW experience, John had steadfastly resisted communist efforts to exploit him and his fellow POWs. John's homecoming began a new phase of his life. His courageous service and his political career are well known today, and now he is the presumptive nominee for the Republican Party to be the next President of the United States.
We are but representatives of over eighty former POWs who shared those heady days of freedom and those years of captivity and suffering with John McCain. Collectively, we are proudly doing all we can to help our dear friend, John McCain, become our next commander in chief. We are campaigning with him, helping him raise money, speaking on his behalf and, in constant conversations, promoting his candidacy among our friends and family all over the country. We are doing so because we believe in John McCain.
Our convictions about John's character were born in the crucible of adversity. We have witnessed his courage, integrity, character and intellect. We know and respect his sense of honor and his tenacity in the face of grave danger and prolonged hardship. These qualities, combined with his life experiences, make John ready for the enormous challenges facing the leader of our country. No one -- no one -- is more qualified to be president, to lead our country, to protect our nation and our children and grandchildren. We know him. We know his strengths, his love of country and his commitment to serve it. He has been severely tested, and we have witnessed him under pressure. We trust his judgment and his ability to lead our country in these difficult times.
We are joined in that trust by over 130 retired Flag and General officers who are members of Senator McCain's Military Advisory Council. They know and have worked with John McCain over the past three decades dealing with major national security challenges. They know leadership and they know danger and challenges. They know experience. They know quality. And they chose John McCain for president.
We must elect a leader who is ready on day one for these difficult and dangerous times. We need a leader who will insist that we win in the struggle against radical Islam. John is committed to let our troops win! We need a leader who will take on the big problems that most politicians seek to avoid. Leaders take on the tough issues. John McCain is that sort of leader. He knows the American spirit -- he has lived it like no other candidate. He knows we can do better and that America's best days are ahead.
Sincerely,
Commander Everett Alvarez, USN (Ret.)
POW for 8 1/2 years
Colonel Bud Day, USAF (Ret.)
Medal of Honor

POW Over 5 Years
Rear Admiral Robert Shumaker, USN (Ret.)
POW for 8 years
Colonel Leo Thorsness, USAF (Ret.)
Medal of Honor

POW for 6 years
Commander Paul Galanti, USN (Ret.)
POW for over 6 1/2 Years
Captain Mike Cronin, USN (Ret.)
POW for over 6 years
Major General John Borling, USAF (Ret.)
POW for over 6 1/2 years
Captain Richard Stratton, USN (Ret.)
POW for over 6 years
Lt Colonel Orson Swindle, USMC (Ret.)
POW for over 6 years.
John McCain, Press Release - McCain Campaign Launches "Journey to Freedom" Online by Gerhard Peters and John T. Woolley, The American Presidency Project https://www.presidency.ucsb.edu/node/294541