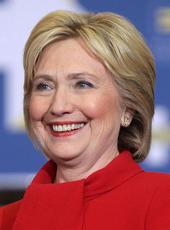 Press Release - Mayors From Across California Endorse Clinton
As Hillary Clinton addressed the 75th U.S. Conference of Mayors meeting in Los Angeles today, she received the endorsements of 34 current and former California mayors, illustrating her growing support in the Golden State.
"I support Hillary Clinton because she is the candidate that will help boost the prospects of the middle class," said Huntington Park Mayor Elba Guerrero. "Her policies will help more students get a better education beginning with pre-K on to college, and she will help more families achieve the American dream. I urge others to join me in voting for Hillary Clinton."
"Hillary Clinton has my vote because she has the experience and knowledge to lead our country," said Lynwood Mayor Louis Byrd. "She will make a great president."
"There is no doubt that Hillary Clinton is the best candidate for the job of President of the United States," said Pleasanton Mayor Jennifer Hosterman. "She has a great deal of experience and I'm anxious, as most Americans are, to once again regain our standing in the world. As the first woman mayor of Pleasanton, I am also excited about the possibility of Hillary Clinton as the first woman President. I am confident that America will prosper under her leadership."
"A Hillary Clinton presidency will immediately raise the stature of Unites States around the world, and bring respect and credibility back to the White House," said Sunnyvale Mayor Lee Otto. "As an elected official, a woman and mother, Hillary truly possesses the experience, talents, and proven know-how to lead our country, as she understands the real issues faced by average Americans."
"These local leaders will be critical to spreading our message of change across California, and I'm honored to have their support," Clinton said.
Clinton was endorsed by California Assembly Speaker Fabian Núñez and more than 15 other state legislators in April during her visit to the State Party convention.
California Mayors Endorsing Hillary Today

Antonio Villaraigosa, Los Angeles Mayor
Otto Lee, Sunnyvale Mayor
Elba Guerrero, Huntington Park Mayor
Laura Lee, Cerritos Mayor
Louis Byrd, Lynwood Mayor
Beverly Johnson, Alameda Mayor
Manuel Lozano, Baldwin Park Mayor
Kris Wang, Cupertino Mayor
Janet Lockhart, Dublin Mayor
Barbara Pierce, Redwood City Mayor
Jennifer Hosterman, Pleasanton Mayor
Ray Soleno, Reedley Mayor
Vicki Vidak-Martinez, Rohnert Park Mayor
Robert Fierro, Commerce Mayor
Ray Luna, Santa Paula Mayor
Daniel Furtado, Campbell Mayor
Henry Manayan, Former Milpitas Mayor
Wendy Baker, Former Fairfax Mayor
Sally Lieber, Former Mountain View Mayor, Assemblywoman
Carol Liu, Former La Canada Mayor
Joaquin Gonzalez, Former Hanford Mayor
Diane Martinez, Former Paramount Mayor
Leticia Vasquez, Former Lynwood Mayor
Ofelia Hernandez, Former Huntington Park Mayor
Juan Noguez, Former Huntington Park Mayor, City Councilman
Emelina Pedras, Former Lynwood Mayor
Maria Davila, Former South Gate Mayor
Frank Quintero, Former Glendale Mayor
Tomas Martin, Former Maywood Mayor
Dan Hauser, Former Arcata Mayor
Thea Gast, Former Arcata Mayor
Alex Stillman, Former Arcata Mayor, Arcata Councilman
Jim Test, Former Arcata Mayor
Cindy Chavez, Former San Jose Vice Mayor
Hillary Clinton, Press Release - Mayors From Across California Endorse Clinton Online by Gerhard Peters and John T. Woolley, The American Presidency Project https://www.presidency.ucsb.edu/node/293491