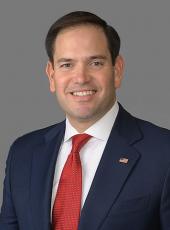 Press Release - Marco Rubio Had a Final Chance to Swing an Undecided Iowa Caucus Goer. Watch What He Said.
February 1, 2016

On Good Morning America today, Marco was asked by an undecided Iowa caucus goer why she should pick him over Ted Cruz.

Watch Marco talk about the race and make his final pitch:
Voter: Good morning, Mr. Rubio. I have seen the top four candidates speak and I'm undecided between you and Ted Cruz. What can you say to me to swing my vote for you tonight?

Marco: Well, thank you for having me as one of your finalists. Let me say two things. Number one, I like Ted, he's a friend of mine. But we have a big difference when it comes to national security. Ted voted for a budget, Rand Paul's budget that brags about cutting defense spending. When I'm president, we're going to rebuild the military, because I believe the world is a safer and a better place when America is the strongest military in the world.

Here's the other, we have to win this election. Bernie Sanders and Hillary Clinton, neither one of them can be president, we must win. And if I'm our nominee I know we will win and so do the Democrats — That is why they don't me to win. So I hope you'll take that into account tonight. Because this election, if we get it wrong, there may be no turning around for America.
Marco and the team are reaching every Iowa caucus goer possible before tonight's contest.

Are you in Iowa and want to caucus for Marco? Here's everything you need to know!
Marco Rubio, Press Release - Marco Rubio Had a Final Chance to Swing an Undecided Iowa Caucus Goer. Watch What He Said. Online by Gerhard Peters and John T. Woolley, The American Presidency Project https://www.presidency.ucsb.edu/node/325948