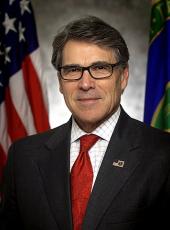 Press Release - Major Border Action Taken by Governor Perry
Legislation to Protect Children from Gang Recruitment (1999)
Then-Lt. Gov. Perry helped enact penalties for those who attempt to recruit children into gangs.
Anti-Gang Initiatives (2005 — present)
Provide funding to border areas to fight transnational gangs.
Operation Linebacker (2005 — 2006)
Developed by the Texas Border Sheriff's Coalition with support from Gov. Perry. Awarded federal grants to border sheriff's departments to expand local patrol capacity along the border. Spanned across 16 counties along the Texas-Mexico border and used local deputies as a second line of defense for U.S. Border Patrol. Resources included:
65 police departments
53 border & coastal counties
Texas Parks and Wildlife, Texas Military Forces, U.S. Coast Guard & DPS
Operation Rio Grande (June — October 2006)
Expanded on success of Operation Linebacker. Operation Rio Grande was designed to maximize the impact of law enforcement resources on organized smuggling activity. The goal was to shut down organized crime between ports of entry and secure the border by increasing police presence in drug trafficking areas across the state. This operation centralized intelligence sharing by coordinating state and local law enforcement agencies, and established the Border Security Operation Center (BSOC) to further centralize border security planning.
Virtual Border Watch Program (November 2006 — January 2012)
Part of a partnership with the Texas Border Sheriff's Coalition. Aimed to expand on success of the Neighborhood Watch program. Surveillance cameras were placed in remote areas of the border. Connected to the Internet, these cameras allowed people all across the nation — and even other countries — to monitor movements along the border and report suspicious activity to law enforcement agencies. During the pilot period from Nov. 3, 2006 — Nov. 30, 2006, the website received almost 28 million hits from more than 220,000 registered users around the world. The virtual Border Watch program has now transformed into Operation Drawbridge (see below).
Operation Wrangler (January — July 2007)
Expanded planning and tactics of Operations Linebacker and Rio Grande further into the state, covering metro areas and transportation corridors. Also continued to expand the centralized planning achieved in previous border-surge operations. Operation Wrangler placed 6,800 law enforcement personnel into known drug and crime corridors along the border for a 12 day period.
Wiretap Initiative (2007)
In 2007, Gov. Perry signed a bill that expanded law enforcement agencies' ability to use wiretapping to detect and deter serious crimes, such as kidnapping, human trafficking and money laundering.
Operation Border Star (2007 — present)
A product of operations Linebacker, Rio Grande and Wrangler. Created unprecedented unity among local, state and federal law enforcement agencies, and focused on reducing crime in targeted regions along the border. Operation Border Star relies on the BSOC and 6 Joint Operation Intelligence Centers (JOICs). The JOICs act as regional coordinating authorities, sending intelligence data to the BSOC, which plans and coordinates statewide operations in Austin. Operation Border Star also sends teams of Texas Rangers and National Guard troops to curb border crime and prevent spillover violence from Mexico.
Ranger Recon Teams (Summer 2009 — present)
Teams are comprised of National Guard troops and Texas Rangers who are assigned to address crime hot spots in rural border areas. Also work as part of Operation Border Star.
Contingency Plans for each Texas Border Security Sector (2009)
Addressed the potential for spillover violence in Texas, including extortion, assault, kidnapping and murder by organized crime cartels.
Operation Drawbridge (2011 — present)
Developed by the BSOC. An electronic monitoring program comprised of over 500 cameras along the border. When a Drawbridge camera is triggered, it sends an image to the DPS BSOC. If it shows something of interest, the image is saved and added to the stream of information DPS shares with other agencies. This sharing of real-time electronic images along the border alerts appropriate law enforcement officials to criminal activity, allowing them to efficiently respond to various situations as needed.
Operation Strong Safety (2013)
A multi-agency law enforcement initiative. Temporarily increased patrol presence in the Rio Grande Valley from Sept. 15 — Oct. 4, 2013. Launched to address three public safety issues identified in the region: 1) significant criminal activity; 2) significant number of commercial vehicles on the roadways; and 3) unsafe driving practices. Assets deployed included surveillance aircraft, armor-plated patrol boats, fusion centers and increased manpower.
2014 Surge Operation
Gov. Perry, Lt. Gov. Dewhurst and Speaker Straus directed DPS to plan and execute a surge operation of increased law enforcement in border counties to build on Operation Strong Safety and provide additional resources to combat cartels and related crimes (murders, kidnappings, extortions, child prostitution, sexual assaults, home invasions, vehicle pursuits and smuggling of drugs, humans, weapons and currency across the border).
June 18, 2014: directed DPS to immediately begin law enforcement surge operations on the border to combat criminal elements taking advantage of our porous border and overwhelmed local and federal law enforcement.
July 21, 2014: deployed up to 1,000 National Guard troops on State Active Duty to the border to support DPS's ongoing law enforcement surge.
December 2014 Emergency Budget Execution Proposal Approved
The Legislative Budget Board unanimously approved the Governor's Budget Execution Proposal, redirecting $86 million of appropriated funds in Texas' budget to the Texas Military Department, Texas Department of Public Safety, and Texas Parks and Wildlife Department. This action allows Texas to continue its border surge operations through August 2015.
Rick Perry, Press Release - Major Border Action Taken by Governor Perry Online by Gerhard Peters and John T. Woolley, The American Presidency Project https://www.presidency.ucsb.edu/node/310958