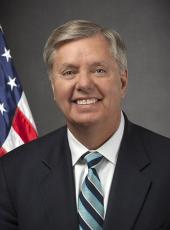 Press Release - Lindsey Graham 2016 Announces National Finance Committee
Alexandria, VA — Lindsey Graham 2016 today announced its National Finance Committee following the campaign's official launch on Monday, June 1.
"Only Lindsey Graham has shown he has the ability and commitment to provide the kind of leadership that will allow us to overcome our nation's challenges. He understands that America has an indispensable role to play in creating the stability and building the institutional capacity that are essential for growing markets and abiding security," said Jeff Immelt, Chairman and CEO of General Electric.
"Lindsey Graham understands America's leadership role in promoting an enduring peace on the global landscape. With conflicts raging in the Middle East and around the world that threaten the security of America and our allies, we need leaders with strategic purpose and moral clarity to confront these crises," said Ronald O. Perelman, Chairman and CEO of MacAndrews & Forbes Incorporated.
Please find the list of Lindsey Graham 2016's National Finance Committee below:
National Finance Chairman
David H. Wilkins, Partner, Nelson Mullins Riley & Scarborough and former U.S. Ambassador to Canada
National Co-Chairs
Safra A. Catz, CEO, Oracle Corporation
Jeff Immelt, Chairman & CEO, General Electric
Barry Mannis, Managing Member, Samuel Capital Management, LLC
Ronald O. Perelman, Chairman & CEO, MacAndrews & Forbes Incorporated
Bobby Rechnitz, Chairman, Iron Dome Tribute
Michael Steinhardt, Steinhardt Management
Anita G. Zucker, CEO, InterTech Group
Northeast
Bradley Bloom, Managing Director, Berkshire Partners
Richard Chilton, CEO, Chilton Investment Company
Michael K. Crossen, Partner, Rubin and Rudman LLP
Ted Cutler, Chairman, The Interface Group
Alec Ellison, Investment Banker, Jefferies & Co.
David Flaum, CEO, Flaum Management Company, Inc.
Tom Joyce, Chairman, Arxis Capital Investments
Peter Malone, Operating Executive, The Carlyle Group
Oswaldo "Ozzie" Palomo, Senior Vice President, A.D.S Ventures
Mark Rubin, M.D., Massachusetts General Hospital
Southeast
Terry S. Brown, Real Estate Executive
Wallace Cheves, Managing Partner, Sky Boat Gaming
E. Bart Daniel, Attorney
C. Edward Floyd, Jr., Surgeon, Floyd Medical Associates
Robert E. Hobart, President & CEO, Hobart Ventures
George D. Johnson, Jr., Chairman, Johnson Development
E. Smyth McKissick, III, CEO, Alice Manufacturing Company
Frank Risch, Board Director, Pioneer Natural Resources Co.
William Rosenberg, M.D., Cabarrus Family Medicine
Robert V. Royall, former U.S. Ambassador to Tanzania
Roger Sofer, Partner, Sofer Steiner and Associates
Bill H. Stern, President, Stern & Stern Commercial Developers
Judy & Sidney Swartz, former Chairman, The Timberland Company
Joe E. Taylor, CEO, Southland Capital Partners
Douglas P. Wendel, Business Consultant
Thad H. Westbrook, Partner, Nelson Mullins Riley & Scarborough
John B. White, Jr., Harrison, White, Smith & Coggins
West
Yitz Applbaum, Co-Founder, Falcon Partner
Richard & Leslie Frank, Frank Family Vineyards
Ron Simms, President, Simms Commercial Development
Lindsey Graham, Press Release - Lindsey Graham 2016 Announces National Finance Committee Online by Gerhard Peters and John T. Woolley, The American Presidency Project https://www.presidency.ucsb.edu/node/310855