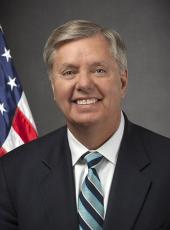 Press Release - Letter to RNC Chairman Reince Priebus On Debate Criteria
Alexandria, VA — Lindsey Graham 2016 Campaign Manager Christian Ferry released a letter sent to Republican National Committee chairman Reince Priebus, regarding restrictive criteria for the first two RNC "sanctioned debates." Mr. Ferry expressed the concern, shared by dozens of activists in early primary and caucus states, that an exclusive reliance on national "horse race" polls will cause significant harm to the important role that Iowa, New Hampshire, South Carolina and other early state voters have historically had in selecting a Republican nominee for President.
Lindsey Graham 2016 applauds the RNC's leadership in taking an active role in the primary debate process, and urges the Chairman, the Debate Committee, and the full membership to stand up for its stated goal of making sure all Republican candidates have an equitable opportunity to make their case directly to voters through these sanctioned debates.
Excerpts from the letter are below and the full letter can be found here.
"I am troubled by the nationalization of the presidential primary process brought on by the decision to use national polls to determine which candidate is on what debate stage. This decision has a negative impact on the traditional role of Iowa, New Hampshire and South Carolina. I understand the position in which the RNC finds itself, but strongly believe the RNC has a responsibility to ensure these debates are open to all candidates in an equal manner, thereby protecting the early state primary and caucus system.
...
"Our party has a tried and true system of early state caucuses and primaries, which allow voters the opportunity to personally interact with the candidates, see them in small group settings and make informed decisions without the filter of the media. The early state process prevents money and celebrity from being the determining factor in the presidential contest..." "A reliance on national polling steals the traditional role of the early primary states.
...
"The fact is, the RNC continues to have influence over the media networks and could easily pull its backing from any network sponsored debate if the network does not give all the candidates for president an opportunity to participate on an equal footing. By refusing to publicly speak out against the media imposed restrictions, the RNC is placing exorbitant influence over our primary process into the hands of media executives instead of the voters of Iowa, New Hampshire, South Carolina and the other early primary states.
...
"The only fair solution to the current proposed rules is for each network to hold consecutive debates, dividing the field via some sort of random draw. This solution would provide each candidate for president the opportunity to present his case to the Republican primary electorate."
Lindsey Graham, Press Release - Letter to RNC Chairman Reince Priebus On Debate Criteria Online by Gerhard Peters and John T. Woolley, The American Presidency Project https://www.presidency.ucsb.edu/node/310890