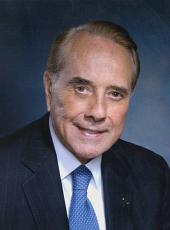 Press Release - Letter to President Clinton Urging the Postponement of Elections in Bosnia and Herzegovina
I welcome the decision by Robert Frowick to postpone the municipal elections in Bosnia and Herzegovina in response to massive efforts at "electoral engineering" in key towns such as Srebrenica and Brcko. However, this decision does not address the other serious problems related to the presidential and parliamentary elections still scheduled for September 14. Therefore, I am writing to appeal to you to use, American leadership and influence to postpone the presidential and parliament elections until conditions exist for free and fair elections. If held under present conditions, these elections will be neither free nor fair, but a fraud — with the American stamp of approval.
The facts are clear: opposition parties have not had access to the resources necessary to campaign; there has been widespread intimidation of opposition leaders, including incidents of Organized violence against opposition candidates and party members; there has been little progress toward the development of independent media; freedom of movement has not been established within Bosnia refugees and displaced persons have not been able to return to their homes; and finally, indicted war criminals are not only roaming free, but are still exerting tremendous influence and authority over the political process. Moreover, there is a real potential for violence. Elections held under these circumstances will only serve to unfairly legitimize nationalist extremists, entrench ethnic divisions, and condemn Bosnia and its people to authoritarianism and partition. I cannot conceive of a single compelling national interest for pressing forward on September 14. Indeed to the contrary, I believe that putting American prestige behind such a process only serves to undermine our leadership and makes a mockery of our commitment to democratic principles, while making it more difficult for U.S. troops in Bosnia to accomplish their goals. I cannot comprehend why the United States supports holding elections under such circumstances.
U.S. policy toward Bosnia is in need of serious alterations. Postponing the presidential and parliamentary elections is an essential fist step. In addition, the program of arming and training of the Bosnian Federation is late and far short of what it should be. This diminishes American influence and strengthens the influence of undemocratic and pro-Iranian elements. Putting the arm and train program back on track is also critical as the central element of a realistic exit strategy for our forces.
Mr. President, in your address to the American people on November 21, 1995, regarding the effort to bring peace to Bosnia, you said, "Our values, our interests and our leadership all over the world are at stake." I agree completely. The world is watching. Now is the time to make the right decision, not the politically expedient decision.
Sincerely,
BOB DOLE
Robert Dole, Press Release - Letter to President Clinton Urging the Postponement of Elections in Bosnia and Herzegovina Online by Gerhard Peters and John T. Woolley, The American Presidency Project https://www.presidency.ucsb.edu/node/285543