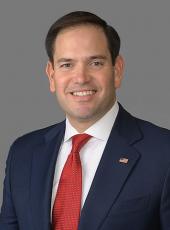 Press Release - A Legendary Evangelical Scholar and Faith Leader Makes His Endorsement: It's Marco Rubio.
January 30, 2016
Michael Cromartie is Vice President of the Ethics and Public Policy Center in Washington, D.C., where he directs the Faith Angle Forum program and the Evangelicals and Civic Life program.

He's a well-known Christian scholar, and he just made his pick for President.
Cromartie was on @USCIRF for 6 years. He especially praised Rubio on US & int'l religious liberty issues.

— Jacob Lupfer (@jlupf) January 30, 2016
#Rubio endorsed by @cromartiem for his defense of #religiousfreedom — a big plus for thoughtful evangelicals https://t.co/QZiY220P8h

— Javier Peña (@JavsPena) January 30, 2016
Marco's commitment to religious liberty was the top issue with Cromartie. Here's what we had to say:
But above all else, I support him for his firm and stalwart commitment to the protection of religious liberty, and his ability to publicly express, in a persuasive and thoughtful way, the basic elements of his own Christian faith. These are particular concerns of mine, arising out of the work I do, and I find Senator Rubio meets these concerns in a refreshing and wholly praiseworthy way. And I find that he does so in a far more consistent and convincing way than his opponents in either party.
Marco has been talking passionately on the trail about the need to protect religious liberty.
Team Marco is proud to have Cromartie on board.
Marco Rubio, Press Release - A Legendary Evangelical Scholar and Faith Leader Makes His Endorsement: It's Marco Rubio. Online by Gerhard Peters and John T. Woolley, The American Presidency Project https://www.presidency.ucsb.edu/node/313723