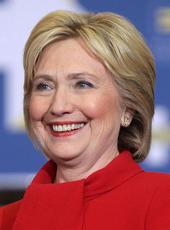 Press Release - Leaders in Education Endorse Clinton for President
Hillary Clinton today received the endorsement of a group of Nevada officials known for their leadership in education -- longtime Clark County School District official and current State Senator Joyce Woodhouse, Nevada System of Higher Education Regents Cedric Crear and Thalia Dondero, and Nevada State Education Association (NSEA) Deputy Executive Director Debbie Cahill.
"I first saw Hillary Clinton speak in Las Vegas years ago and remember being just captivated by her knowledge and passion talking about health care, and the need to take responsibility for our children. These are the issues closest to my own heart," said Woodhouse. "I went to Carson City for the chance to improve education and health care, to ensure a better future for children and seniors in our state. I know that Hillary Clinton is ready to bring about real change. She will be a wonderful president and I am proud to be on her team."
"Hillary Clinton is running an organized, professional and issue-focused campaign, which I think is a great indication of how she will approach the presidency," said Crear. "She is the most experienced candidate, extremely well-versed on the issues most important to the country and in the states, and is clearly ready to hit the ground running from the day she is elected. When she asked me personally to be a part of her campaign in Nevada, I was thrilled to step up."
"As a longtime public official I am thrilled that the early caucus has engaged Nevadans in the issues at stake during this presidential election cycle," said Dondero. "I am proud to support Senator Clinton, who has distinguished herself as a great champion for improving education at all levels, and making health care accessible and affordable for all who are in need."
"America is ready for a change from the failed educational policies of the Bush administration, and I know that Hillary Clinton is ready to lead that change." said Cahill. "She understands that we need to attract and retain experienced teachers and pay them as professionals, and that we must expand access to quality education beginning with the earliest grades. She will also reform the so-called 'No Child Left Behind' act, which has failed our children. I'm excited to work on behalf of Senator Clinton in Nevada, knowing that she will make our education system a true priority."
Elected to the Nevada State Senate in 2006, Joyce Woodhouse has a distinguished career as both an educator and advocate. She has been an elementary school principal and teacher, and served as an education lobbyist for four sessions of the Nevada State Legislature. As Director of the School-Community Partnership Program for the Clark County School District, she served as a liaison with the business community, with the mission of unifying school and community resources to enhance the educational experiences of students. Her public service has extended to many community organizations and boards, including Silver State Schools Credit Union, Kids Voting USA/Greater Las Vegas and The JASON Project and Immersion Presents Science Consortium. She has served as both chairman and member of the Board of Trustees of the Public Employees Retirement System of Nevada, and was recognized as an "Unsung Hero" by the Nevada Public Education Foundation.
A noted Nevada business leader in marketing and tourism, Cedric Crear was elected to the Board of Regents of the Nevada System of Higher Education in 2006. He is the founder and president of Crear Creative Group, which provides marketing, full-service advertising and consulting solutions to regional and global businesses. A veteran executive of such corporations as SBC Global Telecommunications and Station Casinos, Crear dedicates much of his personal time to community service and educational leadership. He is a past Chairman of the Board of the American Red Cross, Southern Nevada Chapter, and currently a member of the Executive Committee of the Caucus of African-American Nevadans (CAAN). He is also an active volunteer with the Andre Agassi Foundation.
Regent Thalia Dondero is one of the best-known and most respected elected leaders in Nevada, having served in public office for more than 30 years. Prior to her election to the Nevada System of Higher Education Board of Regents in 1996, she served 20 years with the Clark County Board of Commissioners, including three terms as chair and one term as vice chair. She has served on numerous state and community boards and championed causes ranging from neighborhood revitalization and effective urban growth strategies to the development of performing arts programs in the state. In addition to her work on the Board of Regents, she currently serves on the Board of Directors for KLVX, Las Vegas' PBS television affiliate station, and the Bureau of Land Management Resources Advisory Council. She is also a past Chair of the Summerlin Hospital Board of Trustees.
A career educator, Debbie Cahill is one of Nevada's most influential leaders in K-12 education. She served as Director of Government Relations for the Nevada State Education Association (NSEA) for 16 years, lobbying in Carson City for public education during eight legislative sessions. Following the 2003 session of the Nevada Legislature, Cahill was named Deputy Executive Director for NSEA, where she focuses on the association's legal services program, field staff supervision, communications and government relations. Prior to her work with the NSEA, Cahill taught junior high school for more than 11 years.
"These four great leaders -- Joyce, Cedric, Thalia and Debbie -- bring diverse community experiences and networks to our campaign," said Clinton Nevada Chair Rory Reid. "They share Senator Clinton's commitment to making our education system strong and accessible at all levels, so that every American can fulfill his or her potential. We are extremely gratified for their support."
Hillary Clinton, Press Release - Leaders in Education Endorse Clinton for President Online by Gerhard Peters and John T. Woolley, The American Presidency Project https://www.presidency.ucsb.edu/node/293265