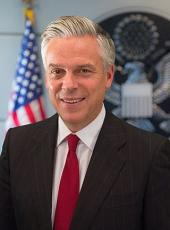 Press Release - Jon Huntsman: Foreign Policy Experience Matters


Renewing America's Leadership in the World
Overview
The world is a better place when America leads. Our own interests are best served when we lead. American exceptionalism is not only about who we are as a people - but it also speaks to how the United States alone is positioned in the world to promote freedom, democracy, human rights, wealth creation, and security. It is a role we should not shrink from, but rather embrace.
Our goal as a nation should be to sustain our pre-eminence as a force for good.
We are of diminishing value to the world if we are a country in decline. Our ability to sustain this leadership role, for which so many around the globe rely on us, relates to the choices we make - or do not make - from this point forward.
Our greatest challenge at this critical juncture does not emanate from overseas from peer competitors, extremist non-state groups, or from determined insurgents fighting their resident governments. Rather, our greatest challenge is to ensure we have the strength, the resources and the wherewithal to compete. We must rebuild our core strength at home so that we can continue to be the force for good around the world.
Key Priorities:
Rebuild our core: To be good abroad, we must be great at home. America's competitive advantages are impermanent and can be squandered if we are not wise in the management of our resources and in choosing when and where to exercise our power. Through dramatic overhaul of our tax system and aggressive regulatory reform, we can once again unleash our creative class and give the American entrepreneur the chance to succeed.
Aggressive promotion of trade liberalization: As the largest and most globally connected economy in the world, the United States is in a unique position to lead the advancement of international trade. The American economy is currently positioned to benefit tremendously from the opening of overseas markets and consumers to quality American goods and services. If we do not take the lead in defining the future of trade, our competitors will, placing us at a huge disadvantage.
Getting strategic power relationships right: The international environment is rapidly changing, and the foundation for United States foreign policy should remain rooted in our traditional alliances. But we must also craft wise policies with respect to the new great powers. India can be a more valued strategic partner to the United States, and a better and more effective approach to the China relationship is also needed.
Taking care of our own neighborhood: For too long the United States has fallen short in its engagement and commitments to the countries right here in our own backyard. The result is lost opportunities, strained relations, and escalating security challenges. Not only is Latin America our geographic neighbor with whom we share a rich history, it is also a huge source of untapped economic potential. Promoting peace and prosperity in our neighborhood, promotes peace and prosperity at home.
Creating a modern defense and military: Maintaining the best military will not simply be a function of spending the most. Staying on top will increasingly depend on our willingness to adapt to the realities of the security environment in the 21st century, and prioritizing correctly to structure our armed forces to meet current and future threats - including asymmetrical threats. Transformation of our forces is required to be prepared for future wars, and to better orient for a Pacific-centric century.
Jon Huntsman, Press Release - Jon Huntsman: Foreign Policy Experience Matters Online by Gerhard Peters and John T. Woolley, The American Presidency Project https://www.presidency.ucsb.edu/node/298768