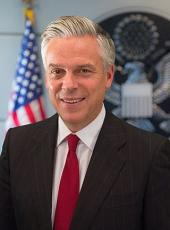 Press Release - Jon In China
There's a running joke surrounding the millions of dollars in unpaid parking tickets that diplomats have amassed over the years in New York City, especially around the UN building. It is easy to picture an entourage of black SUV's congesting the streets with seeming impunity, and it symbolizes the way diplomats in foreign nations traditionally conduct business: shielded, guarded, insulated.
Jon took a radically different approach. He has often said that humanizing a relationship - whether between two people or two nations - is the only way to build mutual trust. And he understood that mutual trust and respect are necessary for America and China to cooperate and move forward in a mutually beneficial direction.
So he shunned the armored motorcades, preferring instead to ride his bicycle through the streets of Beijing. His fluency in Mandarin allowed him to communicate with the Chinese people and understand them - their background, their culture, their viewpoints. The Huntsman family became so well-known that their daughter Gracie Mei - whom Jon and Mary Kaye had adopted from Yangzhou more than a decade earlier - was honored with a postage stamp.
This revolutionary approach helped deliver major victories. Jon's leadership opened Asian markets to American businesses, bringing jobs and capital back home.
Of course, he also occasionally butted heads with the Chinese government. Jon pushed for more shared values in the relationship. He condemned Beijing's abuse of human rights and stridently advocated for the release of both American and Chinese citizens wrongfully imprisoned, like Ai Weiwei and Xue Feng.
Jon Huntsman, Press Release - Jon In China Online by Gerhard Peters and John T. Woolley, The American Presidency Project https://www.presidency.ucsb.edu/node/298798