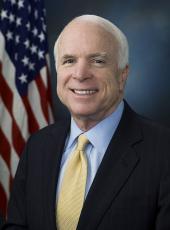 Press Release - John McCain 2008 Launches New Web Ad: "Memorial Day"
ARLINGTON, VA -- U.S. Senator John McCain's presidential campaign today released a new web ad honoring the service and sacrifice of Hispanics in our Armed Forces on Memorial Day.
Script For "Memorial Day" (Web-1:00)
JOHN MCCAIN: My friends, I want you, the next time you're down in Washington, D.C., to go to the Vietnam War Memorial and look at the names engraved in black granite. You'll find a whole lot of Hispanic names.
When you go to Iraq or Afghanistan today, you're going to see a whole lot of people who are of Hispanic background.
You're even going to meet some of the few thousand that are still green card holders who are not even citizens of this country, who love this country so much that they're willing to risk their lives in its service in order to accelerate their path to citizenship and enjoy the bountiful, blessed nation.
So let's, from time to time, remember that these are God's children. They must come into country legally, but they have enriched our culture and our nation as every generation of immigrants before them.
Thank you.
I'm John McCain and I approve this message.
John McCain, Press Release - John McCain 2008 Launches New Web Ad: "Memorial Day" Online by Gerhard Peters and John T. Woolley, The American Presidency Project https://www.presidency.ucsb.edu/node/291946