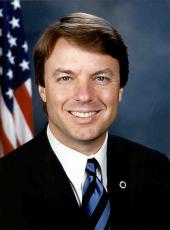 Press Release - John Edwards For President Campaign Announces Communications Staff
Chapel Hill, North Carolina – The John Edwards for President campaign announced today its top communications and policy staff. The team includes veterans of numerous campaigns with years of strategic, policy, and communications experience, who will help share Senator Edwards' vision of change with the country.
The team includes:
Deputy Campaign Manager, Jonathan Prince

Prince has more than fifteen years experience in strategic communications, message development, crisis management, writing, politics and government. During Senator Edwards' 2004 campaign, Prince served as Deputy Campaign Manager for Strategy and Policy. During the 2004 general election, Prince managed Citizens for a Strong Senate's $10 million independent media effort in six key Senate races. He was a Senior Advisor in the Clinton White House, managed communications strategy at NATO during Kosovo, and also served as a Deputy Assistant Secretary of State. In addition to Senator Edwards' 2004 campaign, he is a veteran of both Clinton presidential campaigns With Dr. Sharon Moalem, Prince also wrote "Survival of the Sickest," a bestselling book about evolutionary medicine.
Senior Advisor for Communications, David Ginsberg

Ginsberg currently serves as Vice President at PSB. Ginsberg has held senior positions in several presidential campaigns, including Senior Advisor for Communications in the Kerry/Edwards presidential campaign. He served as Deputy Campaign Manager for Communications in Senator Edwards' 2004 presidential campaign and as Research Director of Gore/Lieberman in 2000. He also served as Research and Policy Director for John Edwards for Senate in 1998.
Policy Director, James Kvaal

Kvaal was a senior policy advisor in Senator Edwards' Senate office, where he handled education, tax policy, and other economic issues. Before joining the Edwards team, he was a policy advisor in the Clinton White House economic staff. He has also worked on higher education policy at the U.S. Department of Education and the Democratic staff of the House Committee on Education and the Workforce.
Deputy Policy Director for Domestic and Economic Policy, Heather McGhee

McGhee was previously a member of the Economic Opportunity Program at Demos, a New York-based research and advocacy organization.
Deputy Policy Director for Foreign Affairs and National Security, Michael Signer

Signer was previously an attorney at Wilmer Cutler Pickering Hale and Dorr in Washington, D.C. He is a Principal of the Truman National Security Project, an adjunct professor at Virginia Tech University's Master's in Public and International Affairs Program in Old Town, Virginia, and served as Deputy Counselor to Governor Mark Warner in Richmond, Virginia.
Policy Communications Coordinator, Alex Navarro

Navarro joins the campaign after working as Communications Director for the Working Families Party. In 2004, he worked as Press Secretary for Senator Edwards' New York campaign. Navarro has worked in press and policy roles for numerous New York campaigns.
National Spokesman and Senior Advisor for Communications, Mark Kornblau

Kornblau will serve as Senator Edwards' traveling spokesperson. He returns to the Edwards team after serving as Senator Edwards' Press Secretary during the 2004 general election. Following the election, Kornblau worked as the Vice President of Corporate Communications for Zagat Survey. Kornblau has years of political experience, working as New Hampshire Communications Director for Senator Kerry's presidential primary campaign and later as a National Spokesman. He has also worked as Communications Director for Senator Evan Bayh, Press Secretary for Debbie Stabenow's first Senate campaign, and Communications Director for Congressman David Wu.
Research Director and Senior Advisor for Communications, Christina Reynolds

Reynolds was a researcher on Senator Edwards' 1998 Senate campaign and the Research Director during his 2004 presidential primary run. She also served as Director of Research and Policy at the DCCC during the 2006 cycle, Communications Director for Senator Tom Daschle's 2004 reelection campaign, Research Director for Senator Tim Johnson's 2002 campaign and Deputy Research Director at the Democratic National Committee.
Deputy Research Director, Peter Bondi

Bondi was a researcher at the Democratic National Committee for the 2006 cycle, and joins the Edwards campaign following work on Jon Corzine for Governor, Bob Menendez for Senate, Betty Castor for Senate and Joe Lieberman for President.
Director of Communications Planning, Candace McAdams

McAdams was most recently the director of Marketing and Communications at the White House Project. In 2004, she worked on Senator John Kerry's presidential campaign. Prior to the campaign, she worked at Dan Klores Communications, a national public relations and integrated marketing firm, where she specialized in crisis management and political, corporate and non-profit accounts. Before joining DKC, McAdams worked on Capitol Hill for former Congressman Martin Frost. In 2000, she was Deputy Press Secretary for the Steve Israel campaign.
Deputy Director of Communications Planning, Teresa Wells

Wells most recently served as the Traveling Press Secretary to Governor Jon Corzine. Previously, Wells worked on Corzine's gubernatorial campaign and the presidential efforts of Senators John Kerry and Bill Bradley.
Deputy Press Secretary, Andrea Purse

Purse most recently served as a Press Advisor for Speaker Nancy Pelosi and Press Secretary for Congressman George Miller, following communications positions at the Center for American Progress and Campaign for America's Future.
Deputy Press Secretary, Jenni Lee

Lee previously worked as Deputy Press Secretary at Senator Edwards' One America Committee. During the 2004 campaign, she worked as Assistant to the Campaign Manager for the Vice Presidential nominee.
National Press Secretary, Eric Schultz

Schultz joins the campaign after working as New York Senator Chuck Schumer's Communications Director. He has also served as Senator Schumer's Press Secretary. In 2004, Schultz was the New Hampshire Communications Director for the Kerry/Edwards campaign and the New Hampshire Deputy Communications Director for the Kerry campaign during the primaries. Before joining the Kerry campaign, Schultz was the Deputy Press Secretary for Senator Barbara Mikulski.
Deputy National Press Secretary, Kate Bedingfield

Bedingfield served as a Regional Press Secretary at the Democratic Congressional Campaign Committee during the 2006 cycle. She joins the Edwards campaign following work at the AFL-CIO and on Paul Hackett for Congress as well as the Kerry-Edwards general election campaign.
Director of Internet Operations, Aaron Myers

Myers was Director of Internet Development for the Kerry/Edwards campaign. He was also Internet Director for Senator Edwards during the 2004 primaries. Myers was Senior Web Producer for Gore/Lieberman in 2000. He also previously worked for Iowa Senator Tom Harkin and has guided online projects focused on workers' rights and the environment as a consultant.
Senior Advisor for Online Communications, Mathew Gross

Gross was Director of Internet Communications for Governor Howard Dean's presidential campaign in 2003 and 2004. He has served as an online and communications advisor to numerous progressive and environmental non profits and global NGOs, and, in 2006, served as the Internet Strategist for Jon Tester's primary and general election victories in the US Senate race in Montana.
Senior Advisor for Online Communications, Ryan Montoya

During the 2004 general election, Montoya served as Mrs. Edwards' Trip Director. In 2000, he served Vice President Gore in several capacities, including Director of Advance in New Hampshire and Director of Scheduling and Advance for Vice-Presidential nominee Senator Joe Lieberman. Montoya worked on Clinton/Gore '96 and was a Presidential Appointee in the Clinton Administration.
Director of Online Communications and Organizing, Ben Brandzel

Brandzel joins the campaign after working as Advocacy Director at MoveOn.org. He also founded the MoveOn Student Action organization. Brandzel has also worked as an online engagement consultant for the United Nations World Food Programme and Oxfam America. He also worked as an organizer on Governor Howard Dean's 2004 presidential campaign.
Online Communications Manager, Tracy Russo

Russo most recently worked as the Blogger and Online Outreach Coordinator at the Democratic National Committee. Previously she directed the finance and online operations for Texas Congressman Ciro Rodriguez on behalf of the consulting firm ConklinScott. She has also worked as a field organizer in Alaska, Virginia, Ohio and her home state of Florida.
Senior Advisor, Jennifer Palmieri

Palmieri, who served as National Press Secretary in the 2004 Edwards for President campaign will be an advisor to the campaign.
John Edwards, Press Release - John Edwards For President Campaign Announces Communications Staff Online by Gerhard Peters and John T. Woolley, The American Presidency Project https://www.presidency.ucsb.edu/node/293932