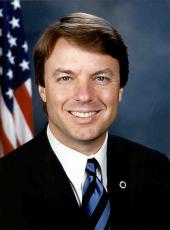 Press Release - John Edwards To Barnstorm Across Iowa During 2007 "Fighting For One America" Bus Tour
Seven-Day Trip Will Take Edwards' Message of Bold Change to 30 Counties and the Iowa State Fair
Des Moines, Iowa – John Edwards will kick off a week-long bus tour across Iowa on August 13, 2007, stopping in 30 counties and meeting with thousands of caucus goers. The 2007 "Fighting for One America" bus tour will take Edwards from the Iowa State Fair to town hall meetings and community gatherings across the state, culminating in the August 19th Democratic Presidential Debate at Drake University.
"I'm looking forward to this trip and talking with Iowans about our fight to build One America — an America where everyone has a chance to get ahead and where the needs of regular Americans come before the needs of powerful special interests," Edwards said. "This will be a great opportunity to meet with Iowans from across the state and share with them my vision for bold change in America."
During the 7-day tour, Edwards will once again drive the Democratic agenda by leading with bold vision and transformational ideas, including discussions of his specific plans to fight for real change in Iowa and all across America.
Additional details about the trip will be released next week. The route and communities Edwards will visit are listed below.
"Fighting for One America" Bus Tour Day 1 - MONDAY, AUGUST 13, 2007

Des Moines

Perry

Jefferson

Carroll

Denison

Onawa
"Fighting for One America" Bus Tour Day 2 - TUESDAY, AUGUST 14, 2007

Sioux City

Ida Grove

Rockwell City

Pocahontas

Clarion

Clear Lake
"Fighting for One America" Bus Tour Day 3 - WEDNESDAY, AUGUST 15, 2007

Manly

Osage

Charles City

Waterloo

Waverly
"Fighting for One America" Bus Tour Day 4 - THURSDAY, AUGUST 16, 2007

Grundy Center

Ames

Des Moines

Oskaloosa

Ottumwa
"Fighting for One America" Bus Tour Day 5 - FRIDAY, AUGUST 17, 2007

Centerville

Bloomfield

Keokuk

Burlington

Wapello

Iowa City
"Fighting for One America" Bus Tour Day 6 - SATURDAY, AUGUST 18, 2007

Dubuque

Davenport

Cedar Rapids
"Fighting for One America" Bus Tour Day 7 - SUNDAY, AUGUST 19, 2007

Des Moines
John Edwards, Press Release - John Edwards To Barnstorm Across Iowa During 2007 "Fighting For One America" Bus Tour Online by Gerhard Peters and John T. Woolley, The American Presidency Project https://www.presidency.ucsb.edu/node/293866