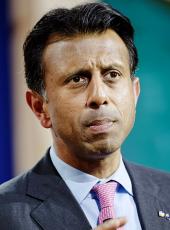 Press Release - Jindal Quick Clicks: 10.05.15
National Review: Can Bobby Jindal Catch Fire from Iowa?

It is two and a half hours after his town hall started, and he has finally finished chatting with the very last of the attendees who hung around to meet him one-on-one. Jindal is talking to National Review when they cut the lights, and he seems in no hurry to be on his way. We move the conversation into the parking lot. On his way out, he obligingly stops to take a selfie with one of the venue staffers closing the place up.
TheIowaRepublican.com: New Iowa Caucus Poll Shows Signs of Life for Jindal

Jindal's bump in the poll isn't just because he was in the state often. He was also on the offensive. Jindal clearly doesn't like or respect the GOP frontrunner, Donald Trump, but he also critiqued Scott Walker before Walker got out of the race. Jindal has also been a vocal critic of Republican leaders in Washington. Still, perhaps the most meaningful thing Jindal has done in Iowa that shouldn't go over-looked is Jindal's willingness to reach out to Governor Terry Branstad and offer to help him take the necessary steps to defund Planned Parenthood in Iowa.
WRNO: Jindal Gets A Lift In New Poll

"The NBC/Wall Street Journal poll shows the Governor has moved up to 6% in Iowa, tied with Ted Cruz and Marco Rubio for 5th place. That puts him ahead of Mike Huckabee and Rick Santorum, among other conservative candidates."
Bobby Jindal, Press Release - Jindal Quick Clicks: 10.05.15 Online by Gerhard Peters and John T. Woolley, The American Presidency Project https://www.presidency.ucsb.edu/node/311677