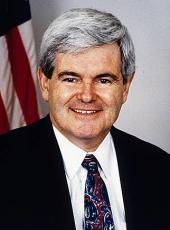 Press Release - Jed Babbin: Newt is Best Prepared for the 3am Phone Call
Jed Babbin, who served as a Deputy Undersecretary of Defense under George H.W. Bush, writes at the American Spectator that Newt is the only candidate "who won't require on-the-job training on defense and national security."
Among the top three, we have two former CEOs and one former Speaker of the House. The problem with both CEOs is in their training and management experience. America is not a business. A commander in chief is not the arbiter in chief or the listener in chief. He can't be entirely dependent on the knowledge of experts. A president has to be someone who has his own expertise and a depth of historical knowledge to evaluate what his advisers say and to decide, sometimes, that all of them are wrong. Herman Cain obviously lacks that knowledge and understanding. And so, quite apparently, does Mitt Romney.

In an interview with him after his failed 2008 campaign, Romney convinced me of his good intentions, intelligence, and sincerity. But I could not avoid concluding that he didn't have an independent base of knowledge of national security and foreign affairs.

In last week's CNN national security debate, Newt Gingrich said many things that set him apart from the rest.

Defending the Patriot Act against a Paulist tirade, Gingrich said "I don't want a law that says after we lose a major American city, we're sure going to come and find you. I want a law that says, you try to take out an American city, we're going to stop you."

While Romney, Perry, and Cain fumbled around the wisdom of withdrawing troops from Afghanistan -- all embracing some form of nation-building -- Gingrich said we should be furious with Pakistan for harboring Osama bin Laden. He said that if we are to keep troops in Afghanistan we need to put the military in charge, and tell the Pakistanis to either cooperate or get out of the way.

Gingrich was also the only candidate clear on Iran. On sanctioning the Iran Central Bank, he said, "I think it's a good idea if you're serious about stopping them having nuclear -- I mean, I think replacing the regime before they get a nuclear weapon without a war beats replacing the regime with war, which beats allowing them to have a nuclear weapon. Those are your three choices."

Mitt Romney proposed indicting Mahmoud Ahmadinejad for violating the Genocide Convention. Seriously? Is that the depth of Romney's thinking?

Whether you love him or hate him, you have to admit that the only grownup in the room is Newt Gingrich. He has lectured at the National War College for about twenty years. He is the only one of the eight contenders who won't require on-the-job training on defense and national security.
Newt Gingrich, Press Release - Jed Babbin: Newt is Best Prepared for the 3am Phone Call Online by Gerhard Peters and John T. Woolley, The American Presidency Project https://www.presidency.ucsb.edu/node/298678