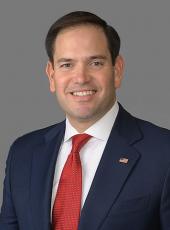 Press Release - Jeb Bush's Super PAC Is Recycling an Incredibly Desperate Attack on Marco Rubio
Jeb Bush's Super PAC is out with yet another pathetic negative ad that recycles a false attack the establishment and Charlie Crist flopped with in 2010.
Jeb Bush endorsed Marco in 2010 and recommended him to be vice president in 2012 knowing that the attacks he is lobbing today were then and are now totally false and discredited.
So far Jeb Bush and his establishment allies have spent over $20 million attacking Marco with false ads that disregard the plain facts below:

The New York Times' Jonathan Martin:
If Jeb Bush's campaign or if the broader field — if this is all they have to use against Rubio, then they're going to have to keep looking. It is pretty thin. (CNN, 1/26/15)
The Washington Post Fact Checker: "Here's Why The Marco Rubio's Corporate Card Saga Isn't Really A Scandal."
Rubio's carefully worded explanation doesn't quite rise to the level of a Geppetto Checkmark, but it is accurate enough that it does not warrant even a single Pinocchio. Perhaps the release of the 2005-2006 card statements will change the outcome. We'll be keeping an eye on this issue but based on the information released so far, a mountain's been made out of molehill, by the media and Rubio's opponents. (The Washington Post, 11/6/15)
The Wall Street Journal's Kim Strassel: "If this is a scandal, we've found a cure for insomnia."
The card was used primarily for political expenses—which were covered by the party. Mr. Rubio occasionally used it for a personal expense, which he then paid for each month by writing a check to the card company. No one is suggesting that the party paid a dime toward Mr. Rubio's expenses, or that the candidate was a dime short in promptly paying back his personal charges. If this is a scandal, we've found a cure for insomnia. . . .

The press for its part is more interested in presenting Mr. Rubio's financial history as some evidence of scandal. The New York Times has devoted near novel-length inches to the non-news (this was all covered in Mr. Rubio's Senate race in 2010) that as a Florida legislator he used a Republican Party charge card for personal purchases. (Kimberly A. Strassel, WSJ, 11/5/15)
National Review's Charles Cooke: "And the scandal is . . . what?"
This story has been doing the rounds for five years now, since Rubio first ran for the Senate. And now, as back then, I am struggling mightily to determine what exactly is supposed to be scandalous about it. Per the Times, the card in question was a Republican-party-linked American Express that was tied to Rubio's 'personal credit.' Primarily, it was used 'for political expenses, which were covered by donations to the party.' Occasionally, however, 'a few personal expenses were charged to the card as well.' Thus, when the bill came in, it contained a mixture of outlays that needed to be carefully sifted through.

And the scandal is . . . what? Did the GOP pick up the tab for those personal charges? Did a group of secret donors bankroll Rubio's home expenditures? Did Rubio and his wife benefit from a line of untaxable private income? Nah. Not even close. Rather, as the Times flatly notes, Rubio made sure to identify all of the personal purchases and ultimately paid for them himself. He wrote a monthly check to the credit card company to cover the personal costs, and the party wrote a check to cover the political ones, according to his staff.

In other words, he did what millions of Americans who work for corporations do each and every month. He didn't borrow money. He didn't ask his backers to pick up his personal tab. He didn't default on his obligations. (Charles C.W. Cooke, National Review Online, 11/5/15)
Red State: "Rubio lived on the income of a pretty ordinary person."
The other financial issues, however, serve mainly as a reminder of the fact that, at least until a couple years ago, Rubio lived on the income of a pretty ordinary person. Maybe they provide one of the reasons that he can talk with authenticity about the struggles people face in terms of paying their student loan debts and living paycheck to paycheck, because they are real life struggles that Rubio himself has faced." (Red State, 11/6/15)
Marco Rubio, Press Release - Jeb Bush's Super PAC Is Recycling an Incredibly Desperate Attack on Marco Rubio Online by Gerhard Peters and John T. Woolley, The American Presidency Project https://www.presidency.ucsb.edu/node/325924