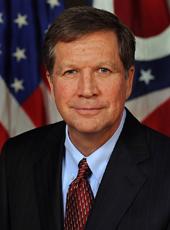 Press Release - Iowa's Quad-City Times Endorses John Kasich for President
Today the Quad-City Times endorsed Ohio Gov. John Kasich for the Republican nomination for President, calling Kasich "the poster-child for all thinking Republicans" and encouraging "anyone interested in actual solutions to caucus Monday for John Kasich."
The endorsement from Iowa's third-largest newspaper comes hours after a major endorsement from The New York Times earlier today.
Read the full editorial here.
John Kasich has been endorsed by more newspapers than any other candidate, including two other Iowa newspapers and six New Hampshire newspapers.
Highlights of the endorsements include:
"Mr. Kasich said recently that he had, 'raised the bar in this election. I've talked about hope and the future and positive things.' In this race, how rare that is."
"By voting for Kasich, New Hampshire can reward a candidate whose politics have been largely positive — and rebuke those candidates who have spent their campaign appealing to voters' fears and biases." The Boston Globe
"Kasich is a pragmatic problem-solver who looks first for conservative, common-sense solutions." Nashua Telegraph
"For a strong economy and responsible government spending, Kasich has earned our trust and support." The Portsmouth Herald
"Of all the Republicans running for president, none can match Kasich's record of accomplishment. His experience prepares him better than all other GOP primary candidates to be an effective and successful president." Foster's Daily Democrat
"Kasich's experience and electability should appeal to Republicans who actually want to win this fall rather than just blow off steam." Valley News
"It isn't time for an apprentice." The Bow Times
"The presidency isn't an entry-level position, and Kasich clearly has the credentials needed to be the next commander-in-chief." The Council Bluffs Daily Nonpareil
"Further, as the rest of the 2016 GOP field has worked to make fear and prejudice the prevailing concerns of voters, Kasich has steadfastly made economic growth and reining in government spending the cornerstones of his campaign." The Keene Sentinel
"If New Hampshire Republicans are sincere in their desire to regain control of the White House, they cannot vote for divisive candidates such as Donald Trump or Ted Cruz. They must put their full weight behind the candidate who gives them the best chance against presumptive Democratic nominee Hillary Clinton, and that candidate is Kasich." The Concord Monitor
John Kasich, Press Release - Iowa's Quad-City Times Endorses John Kasich for President Online by Gerhard Peters and John T. Woolley, The American Presidency Project https://www.presidency.ucsb.edu/node/313354