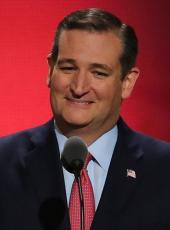 Press Release - Iowa Congressman Steve King Endorses Ted Cruz for President
HOUSTON, Texas – Today, the Ted Cruz for President campaign announced that Cruz has received the endorsement of Congressman Steve King, an influential and outspoken conservative, particularly on the issues of immigration and fiscal responsibility. Congressman King has consistently said that it is critical the next President be someone who will fight unapologetically for conservative principles.
"Ted Cruz has the positive conservative vision for the country that we need to correct the failures of the Obama Administration," said King. "When I survey the challenges facing our country, and the slate of individuals who have stepped forward to offer to lead, one man stands out as the courageous conservative whom I believe can restore the soul of America. That man is Ted Cruz. He has consistently and tirelessly fought on the issues that matter most to conservatives, such as Obamacare, religious liberty, life, and stopping Obama's lawless executive actions. Cruz has a proven record of standing up to both Democrats and Republicans to put the American people first, and I believe he is the only one who can unite conservatives around his campaign and build the organization needed to beat Hillary Clinton. With Ted Cruz, conservatives no longer have to accept a Republican nominee who doesn't truly share our values. I am endorsing Ted Cruz because I know we can trust him to do exactly what he says he will do, and we need that kind of commitment and dedication in the White House. That is why I am asking every one of my fellow Iowa Republicans to join me in caucusing for Ted Cruz."
"I am beyond honored to receive Steve's endorsement," said Cruz. "Steve is a tremendous leader in the House and one of the few truly principled men and women in Washington. He is a courageous conservative who stands up for our values and refuses to back down. His support comes at a fantastic time for our campaign as we are seeing people in Iowa and across the country signing up, volunteering, contributing, and joining our campaign to reignite the promise of America. I can't thank Steve enough and know that his help gives us a significant advantage as we continue to grow and have success in Iowa and across the nation."
King's backing is a coveted endorsement in the Iowa caucus. The seven-term Congressman has been a consistent leader on issues such as immigration and protecting innocent life, and his endorsement is considered among the most influential in Iowa. Cruz has built a top-notch organization in the Hawkeye State, with at least one chair in each of Iowa's 99 counties. He is among the leaders in total visits to Iowa and held one of the largest GOP campaign rallies in Iowa to date by organizing his "Rally for Religious Liberty" in Des Moines in August.
Ted Cruz, Press Release - Iowa Congressman Steve King Endorses Ted Cruz for President Online by Gerhard Peters and John T. Woolley, The American Presidency Project https://www.presidency.ucsb.edu/node/314867