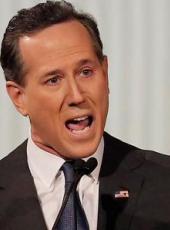 Press Release - ICYMI: The Washington Post's Jennifer Rubin Says "Perhaps Santorum Should Get Another Look"
Santorum the exception to the rule at the GOP debate's "foreign policy horror show"
Verona, PA - In a piece detailing the foreign policy responses of Republican presidential candidates at Monday's CNN/Tea Party debate, The Washington Post's Jennifer Rubin says that "perhaps Santorum should get another look" in a field weak on substantive foreign policy experience and understanding of the threats facing America.
A Foreign Policy Horror Show

By: Jennifer Rubin
"… Perhaps Santorum should get another look. In response to my request for comment (Santorum was not asked to weigh in on this point during the debate), I got this e-mail: "As I said on Greta Van Susteren's show last night, I listened to both men answer and I couldn't believe that neither mentioned the word victory. To stand for anything less is a disservice to our troops, their families, and our nation. Let me be clear, I hate war — and every day I pray for our troops safe and speedy return. In fact, I believe our troops should come home as soon as the job is done. But the problem is, Barack Obama has never outlined a mission for victory. We cannot leave the region when there is still a good chance the Taliban can take control. To leave leadership in the hands of a radical terrorist group, known for its horrific treatment of women and for carrying out unprovoked terrorist attacks on this country — with promises for more — is something I am unwilling to do. The number one job of our president is to defend America, and for Governor Perry to skirt this complicated issue for an applause line shows a fundamental misunderstanding of the region and a level of inexperience only topped by our current president. " Well, yeah.

Santorum's spokesman reminds me, 'As you know, Senator Santorum served for 8 years on the Armed Services Committee and was the author of the Syria Accountability Act and the Iran Freedom and Support Act, as well as a staunch defender of Israel.'…"
http://www.washingtonpost.com/blogs/right-turn/post/a-foreign-policy-horror-show/2011/03/29/gIQATSAaPK_blog.html
Rick Santorum, Press Release - ICYMI: The Washington Post's Jennifer Rubin Says "Perhaps Santorum Should Get Another Look" Online by Gerhard Peters and John T. Woolley, The American Presidency Project https://www.presidency.ucsb.edu/node/298407