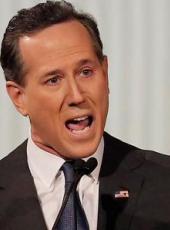 Press Release - ICYMI: The Washington Post Declares Senator Santorum A "Winner" In GOP Presidential Debate
In the first Rick v. Rick match-up, Santorum's consistent, "knowledgeable," and "credible" performance stands out
Verona, PA - In the wake of another strong Republican presidential debate performance, and two prior stand-out debate performances in New Hampshire and Iowa, former Senator Rick Santorum (R-PA) was declared a "winner" by The Washington Post.
Hogan Gidley, National Communications Director, said, "Americans need a president who doesn't simply have a swagger, but one who has the ability to back up his 'provocative' talk with meaningful and positive reforms. Rick Santorum is the only Rick who can do both. Despite receiving just a fraction of the questions of his fellow competitors, Senator Santorum was again able to stand out from the field as the one consistent, full-spectrum conservative whose rhetoric actually matches his record. From his work to pass welfare reform to his defense of parental rights against Governor Perry's outrageous government mandates, Rick Santorum was the one candidate who was able to address the gambit of issues our next president will need to face. "
"The Reagan Library Republican debate: Winners and Losers"
By: Chris Cillizza
Rick Santorum: The focus on Bachmann during the June New Hampshire debate and the August Iowa tilt overshadowed two solid performances by the former Pennsylvania Senator. Santorum isn't everyone's cup of tea but for social conservatives looking for someone who is with them on every issue, he might well be the guy. Santorum came across as knowledgeable and credible - two adjectives that any candidate would like to have describe a debate performance.
http://www.washingtonpost.com/blogs/the-fix/post/the-reagan-library-republican-debate-winners-and-losers/2011/09/07/gIQA2XfpAK_blog.html#pagebreak
Rick Santorum, Press Release - ICYMI: The Washington Post Declares Senator Santorum A "Winner" In GOP Presidential Debate Online by Gerhard Peters and John T. Woolley, The American Presidency Project https://www.presidency.ucsb.edu/node/298411