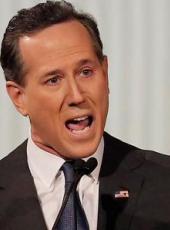 Press Release - ICYMI: Senator Santorum's "Little Engine That Could Campaign Has Rolled Into Iowa and is Gaining Steam"
Santorum and Obama statistically tied in Pennsylvania
Verona, PA - Former Senator Rick Santorum's (R-PA) campaign has emerged from last week's FOX News/Google debate as the conservative alternative to Governor Rick Perry (R-TX) and Governor Mitt Romney (R-MA). During the debate, Senator Santorum showed he is the one candidate best positioned to take on President Obama through his disagreements with Governor Perry on providing benefits to illegal immigrants and his mastery of the foreign policy threats facing our nation.
While Frontrunners Feud, Santorum Wins GOP Debate
By: Byron York, The Washington Examiner
... "On Thursday night, Santorum's persistence paid off. Here's the bottom line from the debate: Just because Rick Perry and Mitt Romney are the frontrunners in the race, and just because most political observers expected them to attack each other in the debate, and just because they did, in fact, attack each other in the debate -- none of that necessarily means Perry or Romney actually won the debate. And indeed, neither did. Instead, Santorum had the night's best performance..."
http://campaign2012.washingtonexaminer.com/article/while-frontrunners-feud-santorum-wins-gop-debate
Republicans Have Three Credible Candidates
By: Jennifer Rubin, The Washington Post
... "Then there is Santorum. He's gone from invisibility to dark horse contender since the Ames straw poll. Before thewipeout year of 2006 (when he and many other conservatives lost), he won races in a purple state and got support from a key demographic, voters previously called Reagan Democrats. Moreover, once in office he collaborated with Democrats on major pieces of legislation including welfare reform while defending conservative values. He also stood up for social conservatives, helping to pass the most significant legislative restriction on abortion since Roe v. Wade (banning partial birth abortion). Years before 9/11 he was warned about the jihadist threat and helped pass an early Iran sanctions bill. He can be theoretically effective, as he was when he framed precisely the right question to ensnare Perry on immigration (why subsidize in-state tuition?)..."
http://www.washingtonpost.com/blogs/right-turn/post/republican-have-three-credible-candidates/2011/03/29/gIQA5enDuK_blog.html
Debate Shakes Perry Camp and Lifts Santorum's Status
By: Tom Fitzgerald, The Philadelphia Inquirer
... "Former Pennsylvania Sen. Rick Santorum, meanwhile, had a prime 7:15 a.m. slot on Fox and Friends, basking in positive reviews for an aggressive debate performance, amid signs he has the chance to overtake the fading Rep. Michele Bachmann of Minnesota as the voice of pure conservatives in the primary..."
http://www.philly.com/philly/news/20110924_Perry_s_rocky_debate_has_some_in_GOP_fretting.html?cmpid=124488469
Near Tie With Obama in Pennsylvania
By: Tim McNulty, Pittsburgh Post-Gazette
"The latest poll from Quinnipiac shows he's (Santorum) holding on with Pennsylvania voters too. The poll has him head to head with Obama in a theoretical matchup, with Obama leading 45-42%."
http://earlyreturns.sites.post-gazette.com/index.php/early-returns-20/53-post-gazette-staff/3368-daily-santorum-near-tie-with-obama-in-pa
The GOP Debate: 6 Takeaways
By: Maggie Haberman, POLITICO
Rick Santorum has eclipsed Michele Bachmann.
http://www.politico.com/news/stories/0911/64247.html
Gaining Steam: Rick Santorum's Little Engine that Could Rolls into Iowa
By: Keith Fournier, Catholic Online
... "Rick Santorum is courageous and he has been impressive. His "little Engine that could" campaign has rolled into Iowa and is gaining steam."
http://www.catholic.org/politics/story.php?id=43001
Santorum Rides Wave of GOP Debate
By: Susan Archer, ABC News
... "Until Thursday night, GOP presidential candidate and former Pennsylvania Sen. Rick Santorum blended into the wide field of candidates vying for the nomination. But Santorum stepped up at the Orlando debate, attacking front-runner Rick Perry on his immigration record and vowing to re-instate "don't ask, don't tell" if elected.
He seems to have made an impression. "Last night was an opening for candidates like Santorum," Florida Republican Harlan Mason of St. John's County said today, "and he stood out."...
http://abcnews.go.com/blogs/politics/2011/09/santorum-rides-wave-of-gop-debate/
Rick Santorum, Press Release - ICYMI: Senator Santorum's "Little Engine That Could Campaign Has Rolled Into Iowa and is Gaining Steam" Online by Gerhard Peters and John T. Woolley, The American Presidency Project https://www.presidency.ucsb.edu/node/298404