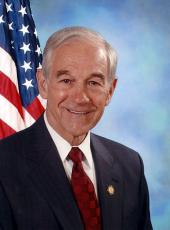 Press Release - ICYMI: Ron Paul Campaign Statement on Republicans Attacking Capitalism
Ron Paul Campaign Statement on Republicans Attacking Capitalism
LAKE JACKSON, Texas — The Ron Paul 2012 Presidential campaign released the following statement in response to the feigned controversy surrounding out-of-context exploitation of Mitt Romney's "I like to fire people" statement. Below please find comments fromNational Campaign Chairman Jesse Benton:
"Rick Santorum, Jon Huntsman, and Newt Gingrich are once again proving why they are unfit to be President and why this has become a two man national race between Mitt Romney, the candidate of the status quo, and Ron Paul, the candidate of real change.
"Two important issues that should unite Republicans are a belief in free markets and an understanding that the media often use 'gotcha' tactics to discredit us. Rather than run against Governor Romney on the issues of the day Santorum, Huntsman, and Gingrich have chosen to play along with the media elites and exploit a quote taken horribly out of context. They are also using the language of the liberal left to attack private equity and condemn capitalism in a desperate and, frankly, unsavory attempt to tear down another Republican with tactics akin to those of MoveOn.org.
"Santorum, Huntsman, and Gingrich are employing leftist tactics because they can't run on their questionable records and can't distinguish themselves from Romney. Like Romney, they all supported bailouts, big spending, deficits, and individual healthcare mandates. And, all three have disqualified themselves from the race for President of the United States, first with their records, then with their inability access major state ballots, and finally with these desperate and deplorable tactics.
"Dr. Paul is committed to running the kind of substantive, issues-based campaign the American people deserve. Our campaign will talk about real issues — real spending cuts, a sound monetary policy, protecting individual liberties, and promoting a pro-American foreign policy. We will win what is now a two-man race on these issues, the issues of grassroots America."
Ron Paul, Press Release - ICYMI: Ron Paul Campaign Statement on Republicans Attacking Capitalism Online by Gerhard Peters and John T. Woolley, The American Presidency Project https://www.presidency.ucsb.edu/node/300136