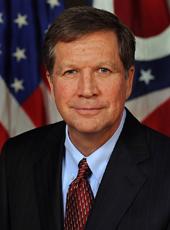 Press Release - ICYMI: Peggy Noonan on John Kasich
ICYMI: Peggy Noonan on John Kasich

Wall Street Journal
We finish with John Kasich, re-elected governor of Ohio last year by 31 points, which speaks, if not of genius, at least of talent. His entrance in the race shook things up in New Hampshire, where a month after his late announcement he went to No. 3 in the polls.
What distinguishes him in my mind is that everyone who writes about politics gets phonecalls from presidential candidates, and they're always about big things—immigration, spending, regulation, national security. But whenever Mr. Kasich has called, the conversation has gone to the mentally ill young, the drug-addicted and what's happeningon the ground in America. What is he hearing about the heroin epidemic in New Hampshire, where admissions to state-run rehab facilities are dramatically up? "I talk about it a lot because I know this stuff," he said in an interview last week. "I got involved five years ago, when a group of ladies in southern Ohio came to me with pictures of their sons, athletes, who died of drug overdoses."
He spoke of "an entire generation that is vulnerable to this because of the casual way we treated prescription drugs—then on to heroin."
His answer? Flood the zone with education, treatment, law enforcement, more programs in the schools—" Nancy Reagan was right, talk about it, air it." He adds: "Revive a sense of citizenship. If you see a kid you don't know, walk up to him, say, 'Please don't ever do drugs.' People say, 'Why would anyone do that?' I say, 'To help save your country.'"
I don't gather Mr. Kasich is talking about "compassionate conservatism," a generalized increase in various forms of spending, but something else: being alive and responsive to actual crises in American society. "There's an arithmetic side of this but there's a moral side," he said. It costs more to keep drug addicts in prison than to get them "on their feet and paying taxes." And "you don't throw people away. At least I don't."
"Why did conservatives allow themselves to be put in a trap," he asks, in which they're afraid to talk about these things? "I balanced the budget in Ohio, I spent 10 years trying to balance the U.S. budget, I've cut taxes more than any living governor, we have a rocksolid credit rating. And because I care about the mentally ill and drug addicted and those in prison, that's not conservative? I believe that helping people have opportunity is all about conservatism. My mother used to say it's a sin not to help people who need help but equally a sin to continue to help people who need to learn how to help themselves."
Mr. Kasich has an unembarrassed heart.
John Kasich, Press Release - ICYMI: Peggy Noonan on John Kasich Online by Gerhard Peters and John T. Woolley, The American Presidency Project https://www.presidency.ucsb.edu/node/313335