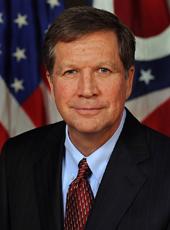 Press Release - ICYMI: New York Times: John Kasich's Quiet, No-Nonsense Style Wins Supporters in New Hampshire
ICYMI: New York Times: John Kasich's Quiet, No-Nonsense Style Wins Supporters in New Hampshire

New York Times

By Jonathan Martin
At a moment when many of his Republican rivals are vying to criticize President Obama and Mrs. Clinton most sharply and to position themselves as the most ideologically pure candidates in the field, Mr. Kasich is taking the opposite approach. And it is paying off — at least in this quirky but crucial state where answers to questions about transportation funding can become applause lines, "Lake Wobegon" references get knowing laughs and Republicans can grow animated about their disdain for negative advertising.
Just a month after entering the race, Mr. Kasich is rising in the polls in New Hampshire, winning head-turning endorsements and drawing new voters to his events who were impressed with his debate performance last week. And his gains could have a significant ripple effect on the Republican primary in this state and beyond, because he is appealing to many of the same voters that former Gov. Jeb Bush of Florida and Gov. Chris Christie of New Jersey are targeting...
Yet nearly $4 million in TV ads here by his "super PAC," and Mr. Kasich's debate performance, have given him an opening in the state. Voters at his meetings talked repeatedly of both.
"He was the only one I thought looked presidential," said Linda Rutter of Derry. "He answered the questions, stayed calm and kind of looked like he could run the country."
Read more here.
John Kasich, Press Release - ICYMI: New York Times: John Kasich's Quiet, No-Nonsense Style Wins Supporters in New Hampshire Online by Gerhard Peters and John T. Woolley, The American Presidency Project https://www.presidency.ucsb.edu/node/313333