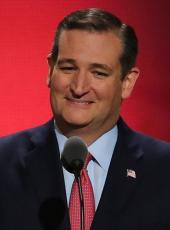 Press Release - ICYMI: Kayla Moore, wife of Chief Justice Moore: I Trust Ted Cruz to Pick the Next Supreme Court Justice
HOUSTON, Texas – Mrs. Kayla Moore, wife of Alabama Chief Justice Roy Moore, penned an op-ed in support of Ted Cruz as the candidate we can trust to nominate justices who are faithful to the Constitution. See excerpts below and the full op-ed here.
AL.com

I Trust Ted Cruz to Pick the Next Supreme Court Justice

Kayla Moore
Very rarely do I get involved in other political races, but right now our nation is at a crossroads. If we do not choose wisely, we may forever lose our country. Many will say anything to get elected, but we must look at what the candidates have done. In studying and watching those running in this race — one stands for the same values I believe in. One is a true defender of the Constitution. The next president will make many critical appointments and tough decisions with regard to the rule of law, the Supreme Court, and national security. Ted has been a consistent Constitutionalist and a faithful defender of life, marriage, and small government.
....
Choosing justices who stay faithful to the supremacy of the Constitution and who refuse to create new law should not be a partisan issue.
However, unable to win the ballot box, Democrats have mastered an unconstitutional game: nominating activist judges who legislate liberal policies from the bench. Unfortunately, Republicans have often failed to stop them and have sometimes joined in their nomination.

With Justice Scalia's tragic passing, the next president will likely replace three, maybe four justices. With the number of 5-4 decisions – in favor of free speech, the Second Amendment, the Ten Commandments, and religious liberty – just one justice could tip the fundamental trajectory of our constitutional rights and society. Conservatives cannot afford to lose the presidential election, but neither can we afford to nominate justices who will betray our constitutional principles. Ted Cruz is the candidate to ensure we win back both the presidency and the courts.
Republicans have picked 12 out of the last 16 Supreme Court Justices – but what do we have to show for it? Lawless decisions affirming abortion, striking down state marriage laws, protecting race-based affirmative action, and upholding Obamacare's unconstitutional overreach. The deciding votes for these liberal opinions have been none other than Republican appointed justices.
....
Ted Cruz is the one candidate in the GOP race who we can trust to break this miserable track record. Cruz knows our Constitution, our legal system, and the Supreme Court better than any conservative who has run for president. After clerking for Justice William Rehnquist, Cruz became one of the greatest and most successful Supreme Court advocates in recent history — writing over 70 briefs as Solicitor General and arguing 9 times before the Court. He has protected the Ten Commandment monument on the state Capitol grounds in Texas, has joined with 31 states in defending the Second Amendment, has protected U.S. sovereignty against the U.N. in the Medellin v. Texas, and he has kept the crosses standing at the Mojave Desert veterans' memorial.
....
Any Republican nominee for the Supreme Court will have an uphill battle, but Ted Cruz is a proven fighter. And from the fight against Obamacare to the battle against amnesty, from the charge against Planned Parenthood funding to the struggle against the catastrophic Iranian nuclear deal, Cruz has shown he is not afraid to fight just as hard for conservative principles as the Democrats do for liberal policies. When he nominates true constitutionalist judges, he will see them through the Senate and onto the Court. And the legacy of just one justice – as we know so well, especially while still mourning the loss of Justice Scalia – can keep this nation more free for our children and grandchildren.
I trust Ted Cruz — a man of character and a proven leader — to not only fight for our values in Washington but, to appoint Supreme Court nominees who will stand by our principles and be faithful to the Constitution — the "supreme law of the land." Join me in voting for Ted Cruz on Tuesday.
Ted Cruz, Press Release - ICYMI: Kayla Moore, wife of Chief Justice Moore: I Trust Ted Cruz to Pick the Next Supreme Court Justice Online by Gerhard Peters and John T. Woolley, The American Presidency Project https://www.presidency.ucsb.edu/node/315094