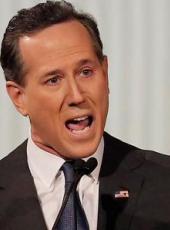 Press Release - ICYMI: Johnstown Tribune-Democrat: Santorum's Plan to Put America Back to Work Should "Make People Stop and Listen"
Verona, PA - In today's Labor Day edition of the Johnstown Tribune-Democrat, the paper's editorial page ran the following editorial in support of Senator Rick Santorum's plan to put America back to work.
This comes in the wake of Friday's jobs report that showed that there was a zero net gain in jobs in August and the nation's unemployment rate remained at a disappointing 9.1%. As Senator Santorum stated on Friday, the jobs report was "another sad sign that President Obama's economic policies would need to improve dramatically to even be described as incompetent."
Johnstown is a blue-collar, steel and industrial town in southwestern PA, an area hard hit by the latest recession that has seen thousands of manufacturing jobs moved overseas. Senator Santorum's jobs plan focuses on bringing those jobs back by unleashing American entrepreneurial spirit and innovation. Across Pennsylvania, manufacturing remains the leading economic sector, making up 13% of Gross State Product and employing nearly 575,000 Pennsylvanians.
Santorum's job-growth plan has merit

The Tribune Democrat
- Rick Santorum thinks he has a plan for generating jobs ...
We think he's headed in the right direction...
... The presidential candidate and former senator pushed his plan Wednesday when visiting one of our region's manufacturing success stories - JWF Industries of Johnstown.
After touring the Iron Street plant with JWF officials, Santorum reiterated his belief that eliminating the federal tax of 35 percent for manufacturers would help push job growth and give companies a reason to make their products here rather than in foreign countries...
... In a sentiment he reiterated during a fundraising event Tuesday in Johnstown, Santorum also told Fox he is concerned that manufacturing jobs have dropped from 21 percent of the U.S. economy several decades ago to 9 percent now.
"We lost those jobs overseas," he said. "We need to bring them back."
After a respectable fourth-place finish in last month's Iowa Straw Poll, Santorum sees himself as a rising Republican candidate in the race for the 2012 presidential nomination.
We don't know if he has a chance of winning the GOP nod.
But we do hope his proposals for the economy make people stop and listen.
On this Labor Day, any idea that could help improve our economy and reward companies striving to create jobs is worth consideration.
To read the entire editorial, please visit: http://tribune-democrat.com/editorials/x803541154/Santorum-s-job-growth-plan-has-merit
Senator Santorum's plan to put America back to work, which was released on July 5th, focuses on reinvigorating the "great middle of America" that has been lost over the past several decades - specifically the manufacturing sector. Among the many initiatives in the Santorum jobs plan are:
Cutting the corporate tax rate for domestic manufacturers from 35% to 0%

Repatriating foreign income at a 5% tax rate rather than the current 35% to bring those revenues home to be investing in America;

Increasing the R&D Tax Credit from 14% to 20% and making it permanent;

Reducing the regulatory burden currently stifling American innovation, including complete repeals of ObamaCare, Sarbanes-Oxley, and Dodd-Frank; and,

Expanding domestic energy exploration to lower energy costs for manufacturers and create good paying manufacturing jobs.
For more information on the Santorum jobs plan:

http://www.ricksantorum.com/news/2011/07/courage-fight-american-jobs
Rick Santorum, Press Release - ICYMI: Johnstown Tribune-Democrat: Santorum's Plan to Put America Back to Work Should "Make People Stop and Listen" Online by Gerhard Peters and John T. Woolley, The American Presidency Project https://www.presidency.ucsb.edu/node/298355