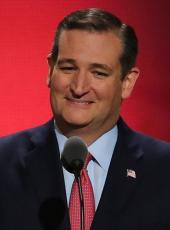 Press Release - ICYMI: "Iowa's Best-Known And Most Influential Conservative Leader" Supports Cruz
What They're Saying About Steve King's Endorsement of Ted Cruz
HOUSTON, Texas – Today, news that Iowa Congressman Steve King had given his coveted and influential endorsement to Ted Cruz set off a flurry of discussion about what it means for Iowa and the Republican primary.
Here is a sample of reactions:
Watch out: @SteveKingIA endorsement of @tedcruz is big development in GOP race. Cruz could very well rise late and win IA—and nomination.

— David Axelrod (@davidaxelrod) November 16, 2015
The Washington Post: "Ted Cruz is now the favorite (or close to it) in the Iowa caucuses... Where King helps is, yes, organizationally — he is the face of the ideological right in Iowa and a major player in the western part of the state where lots and lots of Republicans live. "He has a very faithful grassroots following," longtime Iowa conservative activist Bob Vander Plaats told National Review in late October. "And these are the people that show up on caucus night. They take politics, these elections, very seriously, and so they respect Steve King's voice a lot."  King also adds symbolic heft. He is a true-blue conservative standing up and saying that Cruz is the best conservative in the race. That matters in a field this crowded and this unpredictable."
New York Daily News: "King is Iowa's best-known and most influential conservative leader, and his endorsement will likely boost Cruz's already-rising star in the key early-caucus state. Cruz has been inching up in the polls there, reaching double digits in some recent surveys, and has been building out a ground game that could make him a real threat to place well in Iowa and propel himself to the top of the GOP field.... The Iowa congressman is immensely popular with his state's evangelical and anti-immigration conservatives, and joins popular local radio host Steve Deace in backing Cruz. He's also a leading national voice opposing immigration"
The Guardian: "Ted Cruz received one of the most important endorsements in Iowa on Monday as Congressman Steve King announced his support for the Texas Republican...The endorsement of perhaps the most popular conservative in Iowa comes at a key time for Cruz's campaign, as the senator has established himself in the top tier of Republican candidates with confident performances in debates and a strong grassroots organization."
CNN: "King is a powerful voice in the first-in-the-nation caucus state popular with conservative Christians, and his support could be key to turning out Iowans for Cruz on caucus night February 1."
FoxNews.com: "King is known to be outspoken on immigration issues — vocally opposed to "amnesty" — and in opposition to ObamaCare. The endorsement is helpful to any candidate looking to pick up the evangelical vote in Iowa, which Cruz has courted."
The Weekly Standard: "King's district spans northwest and north central Iowa, a rural and conservative part of the state. The six-term congressman has become a sought-after supporter in the Iowa caucuses in recent cycles....The endorsement could certainly help Cruz as the Tea Party favorite works to earn support from across many of Iowa's influential conservative networks."
Dallas Morning News: "U.S. Rep. Steve King, an influential Iowa Republican, endorsed Sen. Ted Cruz for president on Monday morning. King's blessing gives Cruz a prized voice in the early caucus state among the conservatives he'll need to win the first nomination contest in 2016. "I believe that Ted Cruz is the answer to my prayers," said King, "a candidate God will use to restore the soul of America." King tore through a laundry list of things he loved about Cruz at Monday announcement in Iowa, including his opposition to the Affordable Care Act, his plan for immigration and his that "has consistently stood on principle." King praising Cruz's "unmatched intellect grounded in constitutionalism. and said he'll campaign for the Texan."
Washington Times: "Rep. Steve King threw his political muscle Monday behind Sen. Ted Cruz's presidential bid, giving the Texas Republican a powerful surrogate in Iowa, where the caucus will kick off the nomination race in February....Mr. King is one of the most coveted surrogates in Iowa."
Ted Cruz, Press Release - ICYMI: "Iowa's Best-Known And Most Influential Conservative Leader" Supports Cruz Online by Gerhard Peters and John T. Woolley, The American Presidency Project https://www.presidency.ucsb.edu/node/315334