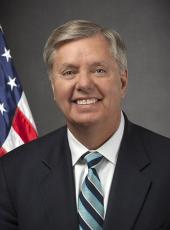 Press Release - ICYMI: Graham Says To Fox News' Gretchen Carlson 'Make Me President, And I'll Build The Pipeline' And 'Destroy ISIL'

Graham: "[ISIL] Desire To Kill Is Only Limited By Their Capability To Kill."

(Real Story with Gretchen Carlson, "Is the WH 'completely delusional' about the Middle East?" FOX News, 11/6/15)

Alexandria, VA - Yesterday, Senator Lindsey Graham appeared on FOX News' Real Story with Gretchen Carlson where he discussed what he would do as president to destroy ISIL and create energy independence for our nation. In case you missed it, watch the full interview here.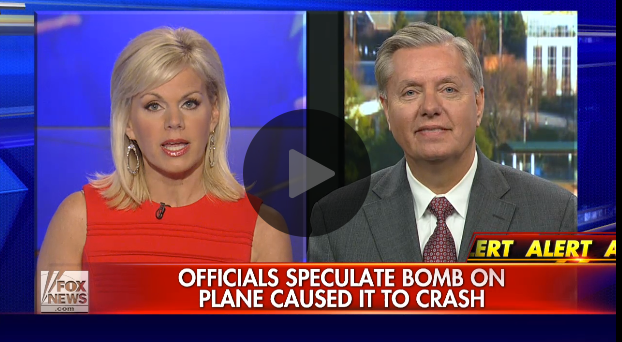 ON HOW GRAHAM WOULD DESTROY ISIL AS PRESIDENT:
"If You Don't Have A Ground Component, You're Not Going To Win And If You Can't Train Enough Syrians To Win, You Need The Region To Fight This Fight With Us."

"I would destroy ISIL. I would get a regional force: Turkey, Saudi Arabia, Jordan and Egypt, they hate ISIL too. ISIL is coming after them. I would form a large army made up of people in the region. I would have a no fly zone in Syria so we could train Syrians who are willing to fight against ISIL. 90% them, and 10% us, they would pay for the war, we would go in on the ground, and we'd kill every one of these guys we could find. We would destroy the Caliphate. We would hold it. If you don't have a ground component, you're not going to win and if you can't train enough Syrians to win, you need the region to fight this fight with us."
ON THE POSSIBILITY OF ISIL INSPIRING THE DOWNING OF RUSSIAN METROJET:
"If ISIL Didn't Do It, They Would've Loved To Have Tried. They Would Kill Us All If They Could."
"If This Is True That ISIL Is Behind This, It Shows They're Getting Stronger And The President Has No Plan To Destroy ISIL."

"If they had a weapon to kill everyone in America, they would use it. They hate us because we're infidels. So if they did in fact collaborate with people in the Sinai or in Egypt to put a bomb on a plane, it shows they're growing in capability. Their desire to kill is only limited by their capability to kill. If this is true that ISIL is behind this, it shows they're getting stronger and the President has no plan to destroy ISIL. The air campaign is not working. 50 people going on the ground won't make a difference. Barak Obama has no idea what he's doing when it comes to radical Islam."
ON THE KEYSTONE PIPELINE:
"As To The Key Stone Pipeline, This Is What We've Learned: The Environmental Left Owns This Whitehouse, And This Makes No Economic Sense."
"Wouldn't You Rather Buy Oil From Canada Than People In The Middle East Who Hate Our Guts?"

"John Kerry is completely delusional as Secretary of State. He thinks things are going great. The Middle East is on fire, Radical Islam is growing in capability and threat, and we're talking about not building a pipeline to buy oil from Canada. News flash: Canada is our friend. Wouldn't you rather buy oil from Canada than people in the Middle East who hate our guts? It would create American Jobs here, it would allow American oil to flow into the pipeline so we could sell it ourselves. It creates jobs, they're going to sell the oil to Canada. Make me president, and I'll build the pipeline."
Lindsey Graham, Press Release - ICYMI: Graham Says To Fox News' Gretchen Carlson 'Make Me President, And I'll Build The Pipeline' And 'Destroy ISIL' Online by Gerhard Peters and John T. Woolley, The American Presidency Project https://www.presidency.ucsb.edu/node/312238