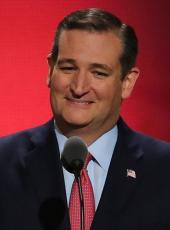 Press Release - ICYMI: CRUZ: We Have No Business Getting in the Middle of the Syrian Civil War; Goal Should be to Defeat ISIS
Speaks with WRKO's Jeff Kuhner
HOUSTON, Texas – Today U.S. Sen. Ted Cruz, R-Texas, spoke with The Kuhner Report regarding the Obama administration's disastrous foreign policy, the 2016 presidential race and the President's decision to politicize the tragedy in Oregon.
Below is an excerpt. Listen to the full interview here:
"I think it would be a mistake to get involved in the Syrian civil war. There have been voices in Washington eager for us to send our sons and daughters over to fight that civil war for some time. I haven't been one of them. I think the touchstone of U.S. military policy should be protecting the national security of this country.
"What we're seeing Putin in Russia do is a direct response to the profound weakness of Obama over six and a half years. Putin views Obama as weak, as ineffective, and frankly, as a laughingstock. And, as a result, he is moving in, he is invading his neighbors – like Ukraine – he's kidnapping Estonians, and he's moving into Syria to gain a stronger foothold in the Middle East. What our focus should be is not on the Syrian civil war, but rather on defeating ISIS. Why? Because ISIS poses a clear threat to us. ISIS, they are the face of evil, they are crucifying Christians, they are murdering Americans, and they have pledged to wage jihad and kill more Americans, and what we need, Jeff, is a strong Commander-in-Chief, that says we will defeat ISIS, and we should do so using overwhelming air power, not this photo-op foreign policy of a bomb here and a missile there, but overwhelming airpower going after ISIS. And number two, arming the Kurds on the ground who are fighting ISIS. Let them be our boots on the ground.
"We have no business, I think, getting in the middle of the Syrian civil war. And part of the reason the Obama foreign policy has failed so badly, is he spent hundreds of millions of dollars pursuing these mythical, moderate rebels – that by and large don't exist – and instead of arming our actual friends, the Kurds, the Israelis, the Jordanians, the Egyptians, all of them who are actually right now helping go after ISIS, we should stand with our real allies, not engage in this weak and politically correct nonsense that's coming out from the Obama Administration."
Ted Cruz, Press Release - ICYMI: CRUZ: We Have No Business Getting in the Middle of the Syrian Civil War; Goal Should be to Defeat ISIS Online by Gerhard Peters and John T. Woolley, The American Presidency Project https://www.presidency.ucsb.edu/node/314820