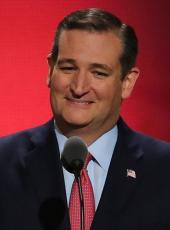 Press Release - ICYMI: Cruz Moves to Seize the Moment in Iowa
"Cruz finds his presidential bid riding a wave of momentum in the Hawkeye State"
HOUSTON, Texas — Presidential candidate Ted Cruz, who has experienced a surge in the polls nationally and in Iowa, just completed a three-day, 16 county campaign swing through the Hawkeye State. The Texas Tribune wrote that Cruz "finds his presidential bid riding a wave of momentum." In recent weeks, the Cruz for President campaign has announced congressional district coordinators in each of the 163 congressional districts that comprise the states that hold primaries or caucuses before March 15th, county chairmen in each of the 171 counties that comprise the first four primary and caucus states —including all 99 counties in Iowa, as well as the endorsement of influential conservative leaders in Iowa such as Congressman Steve King and radio host Steve Deace.
The full article may be read here and excerpts appear below:
Texas Tribune

Cruz Moves to Seize the Moment in Iowa

Patrick Svitek
With two months until its first-in-the-country caucuses, Cruz finds his presidential bid riding a wave of momentum in the Hawkeye State, propelled by a visceral appeal to voters disgusted with Washington D.C. and a surgical approach to consolidating conservative support in the otherwise volatile GOP race for the White House.
His surge here — punctuated by a poll last week that had him rocketing to second place — comes as no surprise in his camp. Campaign staff and supporters say he has been plugging away in Iowa for months, largely out of view from a national media training its attention on shinier objects.
...
While some campaigns would be wary of the heightened expectations — or caught unprepared — Cruz's appears to be leaning into his glide path here, more than ready for his close-up. That was evident as Cruz on Monday finished a three-day, 14-stop tour of the state that drew raucous receptions and overflow crowds, some in cities and towns whose populations total only three digits.
...
Cruz's Iowa moment has not dawned overnight. His swing through the state Saturday was his sixth trip to Iowa in seven consecutive weeks. His team has quietly ramped up from earlier this year, when it had just one paid staffer. And his anti-establishment message has appeared to find an increasingly captive audience among Iowans furious with Washington but not ready to take a chance on political neophytes Ben Carson and Donald Trump.
As he crisscrossed the state, Cruz offered plenty for the anti-Washington crowd, deploying line after line about his outsider status within even his own party. During a town hall Saturday night inside a high school cafeteria in Lamoni, Cruz paused to acknowledge the large red letters on the wall spelling "Concessions," joking that the room was named after "Republican leadership in Washington."
For good measure, he brought along another congressional antagonist — U.S. Rep. Louie Gohmert of Tyler, one of six GOP members of the Texas delegation who have endorsed Cruz for president. Gohmert regularly reminded audiences Saturday and Sunday of his friendship with Iowa Congressman Steve King, an influential figure in conservative circles who threw his support behind Cruz earlier this month.
...
Waiting for Cruz on Saturday night in Chariton, Cruz supporter Chris Downey suggested the senator's commitment to visiting all 99 counties — a tradition known as the Full Grassley, named after the state's senior U.S. senator — could set him apart from the other top-tier candidates in the state. By the end of the trip Monday evening, Cruz was believed to have crossed roughly half of the counties off his list.
"It's an intense expectation, but it forces the candidate to go into places that are pretty small potatoes by most standards," Downey said. "And yeah, you don't see Donald Trump doing that."
Ted Cruz, Press Release - ICYMI: Cruz Moves to Seize the Moment in Iowa Online by Gerhard Peters and John T. Woolley, The American Presidency Project https://www.presidency.ucsb.edu/node/315102