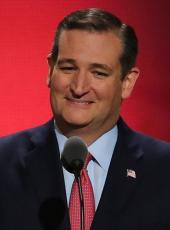 Press Release - ICYMI: Bridenstine op-ed: Cruz is Best Qualified to Be Commander in Chief; Amb. Bolton and Gen. Flynn Praise Cruz's Military Rebuild Speech
HOUSTON, Texas – Today Rep. Bridenstine penned an op-ed in National Review applauding Ted Cruz's strong military rebuild plan and setting the record straight in response to the Rubio campaign's false accusations. Ambassador John Bolton and General Michael Flynn also applauded Ted Cruz's release yesterday of a Reagan-style rebuild of our military. See the quotes of support and the op-ed below.
"Senator Cruz has proposed a forceful defense spending program that is critical to repairing the damage done by the Obama Administration," Ambassador John Bolton said. "I'm particularly impressed by Senator Cruz's continuing strong support for ramping up national missile defense to protect our innocent civilians from the likes of Iran and North Korea."
"Senator Cruz understands the days of 'business as usual' at the Department of Defense are at an end," commended General Michael Flynn. "The DoD needs some new energy and ideas, from the bottom to the top. Senator Cruz's 'More Tooth, Less Tail—Defense for America' approach offers a new vision for our nation's defense needs by applying smart, innovative, and highly capable 21st Century tools and rules offering the United States an opportunity to maintain, sustain, and improve our leadership role around the world."
See excerpts of Rep. Bridenstine's op-ed below and read the full piece here.
Ted Cruz's True Record on Military Funding and National Security Is Unassailable

National Review
As a military pilot and veteran of the Iraq and Afghanistan wars, I am proud that this week Ted Cruz showed us again why he is the candidate best qualified to be commander-in-chief.
Yesterday he laid out a serious, detailed plan for a Reagan-style rebuild of our military that will enable us to utterly defeat the radical Islamic terrorists who have vowed to destroy us. Senator Cruz understands that the essence of "peace through strength" is having the strength to maintain peace, and he's ready to do this hard work. I am proud to have endorsed him and will be proud to serve under him.
Ted Cruz has proven to be a leader who is not afraid to stand up to bullies. He is true to his word. As a combat veteran, I am convinced Ted Cruz is the leader who will keep us safe, support our troops, and defend our nation.
Although Marco Rubio has promised not to "badmouth other Republicans," he and his campaign are now spreading the falsehood that Cruz doesn't care about our troops and are wrongly smearing a good man. They should know better.
The Rubio team has criticized Cruz for voting against National Defense Authorization Acts, suggesting that he's weak on defense. But Cruz had substantive objections to some of provisions in the acts, not to their funding levels. In legislation, sometimes you have to vote no to get to a better yes. You do that because you care about the troops and the Constitution they are sworn to defend.
He slams Cruz's principled stand, but Rubio didn't even show up to vote on final passage of the NDAA in October 2015. The next month, he skipped as well the defense-appropriation vote that actually funds the military.
Cruz was there to do his job and voted to fund our troops. Moreover, in March 2015 he voted for Rubio's own amendment that would have raised the defense budget from $620 to $697 billion for fiscal year 2016.
....
Under Cruz, we can be assured that we have the strongest military in the world. To suggest otherwise doesn't match the record or the character of my friend and colleague Ted Cruz.
Americans' real concern should be with Rubio's candidacy. He's made deals with Democrats at great cost to our national security. As a member of the Gang of Eight, not only did he support massive amnesty while failing to secure the border, but he also supported giving the president unilateral authority to admit more refugees who have not been properly vetted. And he's stood by that dangerous proposition. Senator Cruz and other leaders in the Senate have introduced legislation to ban the entry of not-properly-vetted refugees from terrorist-ridden regions. Senator Rubio has chosen not to support the measure.
Recall that Rubio sided with the Obama-Clinton foreign policy in Libya, which was an utter disaster. "It turned out fine," Rubio said, just five months before four Americans, including Ambassador J. Christopher Stevens, were murdered in Benghazi. Voters should ask whether that is the same kind of judgment that Rubio would use in other areas, such as Syria. He has polished his campaign rhetoric, but when the pressure mounts, he has been quick to abandon conservative principles and slow to keep his promises to voters.
We need a leader whom we can trust. We need a commander-in -chief who puts our national-security interests first. And we need a leader who will honor the Constitution and guide America into a secure and prosperous future. Ted Cruz will do just that.
Ted Cruz, Press Release - ICYMI: Bridenstine op-ed: Cruz is Best Qualified to Be Commander in Chief; Amb. Bolton and Gen. Flynn Praise Cruz's Military Rebuild Speech Online by Gerhard Peters and John T. Woolley, The American Presidency Project https://www.presidency.ucsb.edu/node/314343