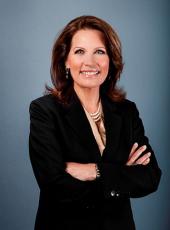 Press Release - ICYMI Bachmann Wraps Up Palmetto State Swing - Delivers Conservative Message to Carolinians
Criticizes President Obama for leading from behind
Myrtle Beach, S.C. — Republican presidential candidate Michele Bachmann wraps up her bus tour of the Palmetto State this week after a series of rallies and town hall meetings. Bachmann placed pressure on the Obama administration to put forth a plan for job creation, economic growth, and strong foreign policy.
Kicking off her tour in Spartanburg, Bachmann criticized President Obama for his lackadaisical attitude toward putting forth a jobs plan that would help both American businesses and employees. "He said a month from now he will release his jobs plan. Now he's been in office going on three years, he's yet to reveal a plan. We've got a plan: it's called replacing him in 2012!" http://www.goupstate.com/article/20110816/ARTICLES/110819755?p=1&tc=pg
She advanced the discussion about jobs and the economy in Charlotte, pointing to the need for the government to support the small business community through decreased regulation and pro-growth policies. http://charlotte.news14.com/content/top_stories/645431/presidential-hopeful-michele-bachmann-stumps-in-queen-city
In Columbia, the conservative leader emphasized her strength in taking on tough issues. "I'm the hombre-ette to go and stand for you in Washington, DC," commented Bachmann. http://www.wistv.com/story/15292780/in-columbia-bachmann-casts-herself-as-one-tough-hombre-ette
Further, Bachmann urged voters to make Barack Obama a one-term president due to his lack of leadership and failed economic policies. http://www.wltx.com/news/article/147910/2/Bachmann-Goal-is-to-See-Obama-Be-a-One-Term-President
Continuing her tour, Bachmann called on the President to stop leading from behind and stand strongly against the injustices confronting the Syrian people. "The President should have acted weeks ago to call on President Assad to step down when his regime started slaughtering and oppressing his own Syrian people — by this count now it's thousands of Syrians," she said. http://www.thestate.com/2011/08/18/1938811/bachmann-criticizes-obamas-action.html
Bachmann will wrap up this week's tour of South Carolina today, hosting a town hall in Myrtle Beach and a "Join Team Bachmann!" rally in Mt. Pleasant. For more information, visit www.MicheleBachmann.com.
Michele Bachmann, Press Release - ICYMI Bachmann Wraps Up Palmetto State Swing - Delivers Conservative Message to Carolinians Online by Gerhard Peters and John T. Woolley, The American Presidency Project https://www.presidency.ucsb.edu/node/298958