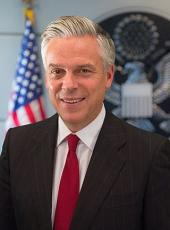 Press Release - Huntsman: Romney a 'Perfectly Lubricated Weathervane'
This is when the candidates need to stand up and show a little bit of leadership...
Jon Huntsman's increasingly tough critiques of rival Mitt Romney's policy reversals assumed an even greater resonance Friday, when questions arose whether the Bay Stater was once more tweaking his belief in climate change.
In an interview with CNN's Wolf Blitzer, the former Utah governor described Romney today as a "perfectly lubricated weathervane." (On Monday, he talked about Romney "leading from behind" on the transformative questions of our debt and deficit and wars abroad.)
"This is when the candidates need to stand up and show a little bit of leadership," Huntsman told Blitzer. "You can't be a perfectly lubricated weathervane on the important issues of the day, whether it's Libya, whether it's the debt ceiling, whether it's discussion about the Kasich bill in Ohio, where Governor Romney has been missing in action in terms of showing any kind of leadership."
Romney had cemented the appraisal even before Huntsman could finish.
"My view is that we don't know what's causing climate change on this planet," Romney said, racing to barnacle his campaign to global warming skepticism at a Pittsburg fundraiser.
But just four months earlier he struck a different cord, expressing concern humans were contributing to a warming earth.
"I believe the world is getting warmer, and I believe that humans have contributed to that," Romney said. "I can't prove that, but I believe based on what I read that the world is getting warmer."
The Huntsman campaign released in tandem with the candidate's tough read of Romney a new web spot Friday in which it displayed the Bay Stater's various "backflips."
Jon Huntsman, Press Release - Huntsman: Romney a 'Perfectly Lubricated Weathervane' Online by Gerhard Peters and John T. Woolley, The American Presidency Project https://www.presidency.ucsb.edu/node/298719