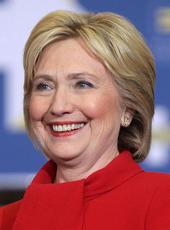 Press Release - How Your Five Bucks Can Help Hillary Clinton Win in Iowa
Five days to go!
The Iowa caucus is around the corner, and the polls are neck and neck.?
Volunteers are doing everything they can to bring the caucus home for Hillary: knocking on doors, making phone calls, and having neighbor-to-neighbor conversations.?
Here's how your $5 donation supports those volunteers—and gets us one step closer to securing Hillary's first victory.?

Since the beginning of the campaign, volunteers in Iowa have been asking people to sign ?commit to caucus? cards. We're getting ready to mail those cards back to them to remind them to show up on February 1. That could mean the difference between winning and losing in key precincts!
One of the most effective ways to reach people on Caucus Day is on their phones. The campaign will be sending out text messages to remind people when and where to caucus. Texts can cost up to 5 cents to send—so your donation can pay for 100 text messages.
Ever seen a volunteer walking around with a clipboard and a pile of papers? Those papers are called a ?walk packet,? and they include maps, directions, and caucus FAQs to help volunteers know where to go and what to do when knocking on doors and having conversations with voters.
$5 can buy paper, ink, pens, envelopes, and labels.
.@iowacity, good news! @HillaryforIA walk packets are READY for YOU! Stop by 361 E College St today! #HillYes pic.twitter.com/BSAzPrOHnV— Trenton Seubert (@TrentonInIA) January 9, 2016
Volunteers use clipboards when registering people to vote on the doors and at events. We buy thousands of them, all made in the USA (of course).
These clipboards are so beautiful! So amped to get out for an #HRCanvass this weekend! #HillYes pic.twitter.com/KnHx9w8V2T— Sara Kirshbaum (@skirshbaum) January 8, 2016
$5 can buy salt (and not for food!)?
Here in Iowa, we need to be prepared for snow, so we buy salt for the sidewalks, so volunteers can safely get to and from field offices, no matter the weather.?
To all the #Hillary2016 volunteers canvassing in the cold today: you are champions! (??"?: @adinofacollege) pic.twitter.com/pdoB3dFvts— Hillary Clinton (@HillaryClinton) January 23, 2016
The team on the ground in Iowa has been working day-in and day-out for months to bring home a win for Hillary on caucus night, and we're almost there! Your support could help make the difference for Hillary in Iowa. Chip in $5 now—and help Hillary win!?
Hillary Clinton, Press Release - How Your Five Bucks Can Help Hillary Clinton Win in Iowa Online by Gerhard Peters and John T. Woolley, The American Presidency Project https://www.presidency.ucsb.edu/node/317041