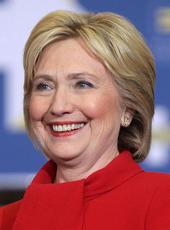 Press Release - How Easy Is It For a Convicted Felon To Get a Gun?
Test your knowledge of our nation's gun laws.
There are many ways a gun can fall into the hands of a dangerous individual—and some of them are perfectly legal.
How much do you know about the loopholes in our gun laws?
In 1993, President Bill Clinton signed the Brady Bill, which requires licensed federal gun dealers to run a background check on anyone who attempts to purchase a gun. However, thanks to the NRA's lobbying efforts, the bill includes a loophole stating that if the FBI cannot process the background check within three days, the dealer can legally sell the gun to the buyer—regardless of the person's record.
The shooter who slaughtered nine people in a South Carolina church bought his weapon thanks to this so-called Charleston loophole.
Licensed gun dealers are required to conduct a background check before each gun purchase—but many private sellers are not. That means guns sold over the internet or at gun shows are rarely regulated.
According to the best data available, as much as 40 percent of annual gun sales occur without a background check because the sale occurs over the internet, at a gun show, or are person-to-person sales.
Federal law does not bar those the FBI suspects are terrorists from buying a weapon. The U.S. Senate recently had a chance to close this loophole—but Republicans, including three running for president, voted against the measure.
Even though federal law prohibits felons from purchasing or possessing guns, that prohibition does not apply to many convicted stalkers—because federal law does not prohibit people convicted of misdemeanor stalking offenses from buying guns.
" This epidemic of gun violence knows no boundaries, knows no limits of any kind. And when this happens, people are quick to say that they offer their thoughts and prayers. That's not enough. How many people have to die before we actually act, before we come together as a nation?"-Hillary Clinton
Hillary has always stood up to the gun lobby—and as president, she'll work to close these outrageous loopholes while protecting the rights of responsible gun owners.
Learn more about Hillary's plan to address gun violence?here.
Hillary Clinton, Press Release - How Easy Is It For a Convicted Felon To Get a Gun? Online by Gerhard Peters and John T. Woolley, The American Presidency Project https://www.presidency.ucsb.edu/node/317483